WC Qualification Africa
Uganda coach Basena disappointed with Ghana stalemate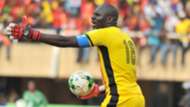 Uganda coach Moses Basena has admitted his disappointment after the goalless draw against Ghana in the penultimate matchday of the 2018 Fifa World Cup qualifiers on Saturday.
The Cranes needed a win at all cost to stand a chance of qualifying to their maiden World Cup but failed to live up to the expectations.
Ghana had two goals disallowed and a penalty call snubbed in the encounter.
"We are disappointed with the result, but we are happy the way we worked," Basena said.
"There were people doubting our abilities but even though we didn't win this game, we showed that we can take on the best on the continent.
"We're not giving up on qualification despite the failure to win at home. Anything can happen in the other game so we will be on the alert. With one more game against Congo, we still have a chance to qualify and we'll hope for the best," he added.
However, Uganda captain Denis Onyango has slammed the poor state of the pitch at the Mandela National Stadium which was used to host a crusade two days before the game.
"How can the national team play a crucial match against Ghana on a village pitch?" he quizzed.
"It clearly shows how seriously we take or do not the national team and the World Cup qualification."
Uganda now sit second in Group E with eight points, one point behind Egypt but a win for the latter against Congo on Sunday will end their ambitions.
Ghana FA has officially lodged a protest against the referee of the Uganda vs Ghana match and wants the world's football governing body to nullify the result and set a new date for a replay.