Tottenham Hotspur
Tottenham close in on record run after beating Arsenal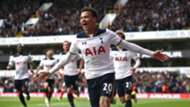 As they revel in their 2-0 win over Arsenal to ensure they finish above their city rivals in the Premier League, Tottenham fans will be hoping it propels their team onto greater things.
Alli & Kane settle north London derby
Ending a 22-year spell of finishing below the Gunners, Spurs also kept their title hopes alive as they remain four points behind Chelsea.
As they continue to collect victories, Mauricio Pochettino's men are aiming high, and it seems they are nearly in league-winning form.
According to Opta, Spurs now have won nine consecutive league games for the first time since October 1960, when they won 13 in a row and went on to lift the title for the last time - with four games remaining, they could match it.
Converting the penalty to double their lead, Harry Kane became the team's top scorer in Premier League north London derbies with six goals, overtaking Gareth Bale on five, and he maintains his record of scoring in every Premier League fixture he's played against Arsenal, netting six in five.
On the other hand, Arsene Wenger's men have not won any of their last six league games against Spurs - drawing four and losing two - their longest winless run against them.
The famous derby is now the highest scoring Premier League fixture of all time, seeing 141 goals scored - 80 for Arsenal and 61 for Spurs.