Transfers
Topor-Stanley returns to Newcastle Jets
Goal Australia Chief Editor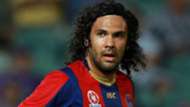 Newcastle Jets have continued their recruitment spree by bringing former captain Nikolai Topor-Stanley back to the club for the next two A-League seasons.
The Jets have now signed seven new players for the 2017-18 campaign, with Newcastle unveiling Topor-Stanley on Wednesday, less than 24 hours after they announced the recruitment of Dimitri Petratos from K League club Ulsan.
The central defender joins the Jets from Arabian Gulf League outfit Hatta Club where he played 24 games in all competitions last season.
Skipper leaves Wanderers for Hatta Club
Hatta Club finished 10th in the 14-team AGL.
Topor-Stanley, 32, has won an A-League premiership and the AFC Champions League with Western Sydney Wanderers and hopes to bring silverware to Newcastle - a club that has failed to make the domestic finals for seven years.
أثناء توقيع #حتا مع اللاعب اللاعب الاستراليا نيكولاي ستانلي pic.twitter.com/cRhVanI4Ve

— نادي حتا الرياضي (@Hatta_fc) October 16, 2016
"I have had a good history of playing football in this region and I know the passion that the people have for their team," he said in a statement.
"I know that the people are very proud people here and the fact that they haven't had that much success recently means it will be even sweeter when we do reach that."
"There is a long road ahead and I am really looking forward to getting out on the training track. Hopefully I can add my experience of what I have learnt both here and abroad to help bring winning times."
Newcastle coach Ernie Merrick explained that Topor-Stanley's knowledge of the Jets is an advantage.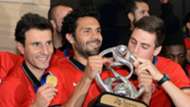 "We need to strengthen the squad and add experience, and Nikolai fits the job description 100 per cent," Merrick said.
"He is a skilful and uncompromising defender who will provide on-field leadership.
"The fact that Nikolai has played previously for the club is another bonus. He knows what to expect and what is needed at the Jets in order for us to make the finals."
Topor-Stanley joined Hatta Club in October, ending a four-year association with the Wanderers.
The centre-back, who started his professional career with Sydney FC in 2006 before moving to Perth Glory, played three seasons with the Jets after joining them in January 2009.
He made 87 appearances in all competitions for Newcastle in his first stint with the club.