Tite
Thiago Silva libero and a midfield switch - Tite trials tactical variations ahead of World Cup
Raisa Simplicio & Rupert Fryer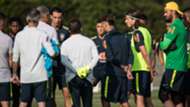 As Brazil coach Tite prepares for the greatest test of his professional life, he is once more showing signs of evolution.
The Selecao arrived in England last week with the boss looking to conduct some final experiments ahead of World Cup 2018 – the first of which will take place at Anfield as the Brasil Global Tour welcomes Croatia.
Tite's long and successful career has seen him claim major titles at five different clubs – all of which have been won – to varying degrees – with different systems and styles.
His greatest ideological evolution arrived just prior to his June 2016 appointment as Brazil coach, when he took a long sabbatical in order to travel Europe and reassess the fundamentals at the heart of his footballing ideals.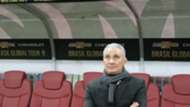 It all began for Tite's Brazil back in September 2016 with a 3-0 victory over Ecuador in Quito, a victory earned with an approach almost identical to that with which he led Corinthians to the Brasileirao league title in 2015.
With almost no time to work with a new set of players prior to his debut, Tite brought in players he'd worked with previously and replicated his recipe for success with the Timao – a 4-1-4-1 that pressed extremely high for Brazilian sides, and a balanced midfield that protected the back-four, offered creative passing for those ahead of them and a shuttling goal-threat in Paulinho.
Since then, Tite has been searching for alternatives, and has repeatedly moved away from the core idea of play that he will use at this year's World Cup. 
He has said that he will not compromise on his ideals by changing his team according to the opposition, but that he is desperate to perfect slight variations that can be initiated during matches.
Much of his work has focused on ensuring his side can switch from their natural 4-1-4-1 to both a 4-2-3-1 and 4-2-3-1, which were saw during training in London on Thursday.
The goal, then, is to arrive in Russia ready to adjust to game situations – something that has proved a problem for Brazil sides in recent World Cups. 
Tite and his staff are well aware that they will face opponents who sit deep, defend with a low block and look to stifle the five-time world champions who have rediscovered their attacking guile and verve under the current boss.
That's why he has valued players he deems versatile enough to operate in more than one designated role, with the majority of his trusted midfielders and forwards having been tasked with different roles during stages of his near two-year stint in charge.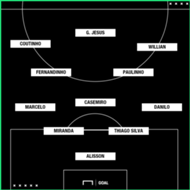 On Sunday at Anfield, with Neymar likely to play a bit-part role after returning from a foot injury, Tite will conduct some small experiments once more. His starting lineup appears is set to be: Alisson; Danilo, Thiago Silva, Miranda, Marcelo; Casemiro; Willian, Paulinho, Fernandinho, Coutinho; Gabriel Jesus.
The only change from Brazil's last clash, with Germany in March, is that Danilo has come in at right-back to replace the injured Dani Alves, who will miss the World Cup.
Renato Augusto is injured and so will sit out of the match with Croatia. However, he may well have become only the third player under the current regime to lose his place in the preferred first XI through anything other than injury – Willian initially lost his place to Coutinho and Marquinhos now seems to have lost out to Thiago Silva.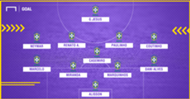 Tite is seemingly keen to add more steel to his line-up by replacing the cerebral, passing Renato with the more solid Fernandinho, who it should be said has starred in a deep-lying passing role at Manchester City this season.
Fernandinho performed excellently in the role against Germany, but will Brazil lose that all-important ability to dictate the tempo without Renato Augusto, who, tellingly, is invariably the one Tite turns to mid-game to instruct the rest of the players of any tactical shift.
Willian will work from his customary position on the right while Coutinho will be tasked with drifting inside from the left. Paulinho will once again be expected to offer a goal-threat via his late runs into the box.
Another option would be to offer hometown hero Roberto Firmino a rare start, though Neymar, too, could be trialled closer to Jesus up front, in a similar role to that which brought Brazil an Olympic Gold Medal at the Rio 2016 Olympics.
Brasil vs Croatia

Tickets  https://t.co/2UxZMc1HwN pic.twitter.com/6d3v6dkLwG

— Brasil Global Tour (@BGT_ENG) May 15, 2018
Also desperate to see some minutes is Shakhtar midfielder Fred. A relative latecomer to the squad, he has shown for his club this season that he is a well-rounded midfielder who can offer both defensive and attacking attributes to the middle of the park.
Another late trial from Tite is to experiment with Thiago Silva as something of a libero, who can offer a range of passing from the back against sides who attempt to choke Brazil in midfield. Thiago, of course, offered exactly that in World Cup 2014 as he and David Luiz were tasked with bypassing a midfield that struggled throughout the tournament.
Brazil play Croatia at Anfield on Sunday June 3 before meeting Austria in Vienna on June 10 in another Brasil Global Tour double-header.