Premier League
The man who silenced Arsenal: Spurs stand on precipice of greatness with Pochettino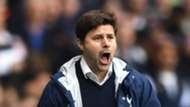 Tottenham are entering into a new era of prosperity. The farewell has been done, the goodbyes have been said, and now Spurs stand on the threshold of a new era.
The bulldozers are on the pitch at White Hart Lane, ripping up the turf, tearing down the seats. A glorious swansong was played last Sunday, Spurs' youthful side tearing through Manchester United and signing off from their famous old ground unbeaten for the 2016-17 season, courtesy of goals from Victor Wanyama and Harry Kane in a 2-1 win.
Aulas: Lacazette has Atleti deal
Afterwards came a fitting, poignant farewell. Legends young and old – from Glenn Hoddle and Osvaldo Ardiles to Ledley King – came out onto the pitch, waving at their adoring masses. And then came the class of 2017.
They were welcomed onto the pitch with a similar cacophony of noise reserved for a legend that has won trophies and earned a space in a fan's heart. Mauricio Pochettino led his team out, stood on the pitch and, while the camera lingered, fought back the tears that were clearly beginning to swell.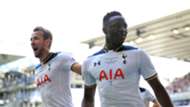 As Spurs prepare to play at Wembley next season, and then at the "new" White Hart Lane – that may not be its name, given the rights package that is currently on sale, but, spiritually, it will always be known as such – much has been made of how chairman Daniel Levy must pay his players what they deserve, and show ambition in the transfer market this summer.
Those soundbites are all well and good but they miss a critical point. Kane, Dele Alli, Christian Eriksen and Toby Alderweireld, among many others, are coveted by numerous clubs and it is of little surprise. They have played exceptionally well throughout a campaign that very nearly saw Tottenham become champions.
Zlatan ready for Europa League final
But they have played that way under the tutelage of Pochettino, who remains the most important man at the football club, and who has been nominated for the Manager of the Season award for 2016-17.
Prior to his shrewd appointment of the Argentine in 2014, Levy had seen the back of nine managers. Only Martin Jol – still loved by many at White Hart Lane, such was his swashbuckling style and personable attitude – and Harry Redknapp can really be considered successes, despite Juande Ramos lifting the League Cup in 2008.
Now, however, there is a manager at the helm who understands what it is to manage a club like Tottenham. Spurs have always stood on the precipice of something truly outstanding. This is a club in one of the most attractive cities in the world, bankrolled by a wealthy, if unseen, owner in Joe Lewis, and who have often flirted with breaking through the Premier League's glass ceiling.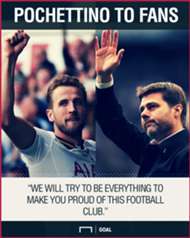 Yet it is about more than finishing fourth, now. Qualification for the Champions League was, once, the be all and end all. Redknapp, after all, believed that one run in Europe's elite competition – where he could rest upon the crutch of Gareth Bale – should qualify him for the England job.
Pochettino is about more than all of that. Pochettino believes in promoting from within and allowing youth to thrive. Pochettino believes in fostering undying loyalty – and it must be said that playing under him is a massive carrot for most players in world football, especially those under 25. Pochettino believes in buying players that fit his system, rather than purchasing on star power alone – one need only observe the development of both Kieran Trippier and Ben Davies this season to see his methods work. More importantly, Pochettino believes in winning.
Finally, Spurs have a real chance to become the champions of England. For two seasons in succession Tottenham have been the best footballing team in the country. Last season their progress was marred by a late collapse, but they have gone above and beyond this season to prove that they really do deserve to start next season as one of the true contenders for the title.
Pochettino has taken Spurs to such a point where even Arsenal are irrelevant – St Totteringham's Day is dead, after all – and he must now be kept at all costs.
Spurs have previously been a selling club, allowing the likes of Bale, Dimitar Berbatov and Luka Modric to depart when too good of an offer is presented. Now, it is the man in the dugout that they surely must retain.
Pochettino has turned Tottenham into winners. They dare not lose him.