Barcelona
The inside story of Suarez's stem cell treatment at Barcelona & why it's so controversial
Ignasi Oliva Gispert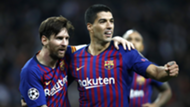 The stem cell treatment that Barcelona's Luis Suarez will receive to speed up recovery from a knee injury is neither clinically proven nor effective, according to specialist Dr Robert Soler. 
Suarez's fine run of recent form has been arrested by a problem in the knee joint sustained against Atletico Madrid at the weekend. 
The Uruguayan faces at least two weeks out of action, ruling him out for a series of crucial matches for the Blaugrana at the end of 2018, beginning with Wednesday's Champions League test against PSV. 
Barcelona have confirmed that Suarez will receive Stromal Vascular Fraction treatment on the joint, a cure that involves stem cells harvested from the fatty (adipose) tissue in the body. 
But Soler, a specialist at the Regenerative Tissue Therapy Institute and, with Dr Lluis Orozco, a pioneer in regenerative treatments using stem cells, doubts it will have an effect on the striker's recovery.
"We don't know of any clinical trials that show Stromal Vascular Fraction's anti-inflammatory and regenerative effects," the doctor explained to Goal, adding that the procedure is only loosely related to stem cell therapy despite admitting "it is widely used, not just in the world of football."
Soler also explained how the treatment is likely to be administered, adding: "Luis Suarez will probably have fat taken from his torso, it will be centrifuged and applied on the same day."
According to Soler, the treatment undertaken by Suarez is backed up by scant medical evidence, unlike conventional stem cells which "go through a process of cultivation and selection to obtain a medication for which there are doses, characteristics and a different class of cells which have previously been subjected to clinical trials, have received approval from the appropriate authorities to test to animals and then patients and which require prior supervision to use over a period of eight hours. 
"[Suarez's treatment] does not owe to an error from Barcelona's medical team, there is a legal vacuum and there are brands that offer this product. 
"Sports medicine should take a direct approach because players want to recover as soon as possible," a fact that, according to Soler, should not encourage clubs or footballers to use treatments that have not been properly tested.
Dr Soler concludes that Stromal Vascular Fraction "is not positive because there is no proof that it is effective. 
"It is not well regulated and at this point there has been no demand for safety and effectiveness tests."
Suarez has racked up 18 appearances for Barcelona in all competitions in 2018-19, scoring nine goals.