Manchester City
Stop putting De Gea in your Man City-Man Utd combined XIs!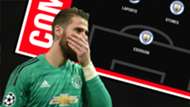 This is not an article about David De Gea being rubbish. He is widely regarded as the best goalkeeper in the Premier League, if not the world, and with good reason.
But he should not be put into a combined Manchester XI.
Combined XIs are a funny thing. They are generally a bit of fun, concocted by fans and pundits ahead of the biggest games on the football calendar. With the Manchester derby coming up, you will see dozens of these XIs all over social media and will be able to pick your own on various websites.
They are ultimately pointless, yet at the same time they are serious business. Journalists asked to come up with them have sleepless nights, worried that fans of the players they have omitted will come and visit them in the night, or send them abuse on Twitter.
In a bid to add some sort of credibility to the teams, we apply rules to them; in many XIs you won't find players who are injured or suspended, as if they would need to be called into action in real life, to take on a team of aliens like a footballing version of Space Jam. 
And if we are particularly worried about Twitter abuse, we may be cowed into making it a six-five split, just to keep as many people happy as possible.
But that defeats the object. We have been charged with the serious task of picking the best XI players. If my XI were to take on your XI, I want mine to win. I'm not going to put in Victor Lindelof instead of John Stones, even if the Swede has been quite good recently.
In fact I would pick 10 City outfield players - could anybody reasonably argue that any of their United counterparts have been better this season?  Maybe  Luke Shaw at left-back instead of Benjamin Mendy.  Maybe . But definitely none of the centre-backs, none of the midfielders, and despite Anthony Martial's recent good performances, none of the forwards.
Which brings us back to De Gea and a viewpoint that has strayed beyond combined XIs. Over the past 18 months pundits have tried to sum up United's problems by saying that only one player - De Gea - would get into the City team. 
But they're wrong. He wouldn't.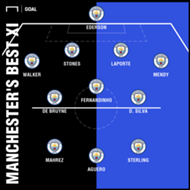 This is not because he is a poor goalkeeper. Again, and this cannot be stressed enough, he is one of the very best. He's probably better than Ederson overall. But he's not the right  type  of goalkeeper, either for Guardiola's City or my mythical XI (which is, at this moment in time, the exact same thing).
It is a matter of style. The United defence are used to what De Gea does, and his game suits United's. He is the club's best player, after all.
But United fans will remember the problems when Tomasz Kuszczak stepped in for the ever-reliable Edwin van der Sar. It did not cost them titles, but it was a spanner in the works. Rio Ferdinand and Nemanja Vidic, the best defensive partnership around at the time, were used to Van der Sar coming off his line to sweep up behind them. Kuszczak, when he played, always stayed on his line, confusing Ferninand and Vidic to the point that they often looked considerably less assured and dependable than they normally were.
And that would be the problem here if we magically made De Gea play in goal for City. It would not be as big a disaster as if Claudio Bravo had to come back into the team, but it would be a big enough disruption to City's style. Their defenders would not be able to play so high up the pitch, and the team would not be able to play out from the back as smoothly as they do now.
De Gea has barely come off his line since 2011. 
His kicking is fine, but not Ederson level. And even his biggest strength - shot-stopping, which is the best in the world  - would be pretty much redundant at City given they don't really face any shots.
And while De Gea is perfect for United, Ederson is perfect for City. The Brazilian practically lives outside his area, ready to collect back-passes from his defenders and tidy up any danger behind them. That positioning helps keep City on the front foot; the fact he does not have many shots to actually save is because he contributes so much to his team's high pressure (the defenders play a very high line, so he has to dwell outside his area), and that high pressure means City keep scoring loads of goals.
His passing, both short and long, does not need any introduction by now. As Sean Dyche said last season, it's like having Ronald Koeman in goal. 
It just works. If it ain't broke, don't fix it, and it certainly ain't broke.
So when it comes to picking your combined XIs this weekend, make sure you put as much thought into it as I have done.