United States
Sources: Gregg Berhalter hired as new USMNT head coach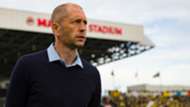 The 13-month search for the new man to lead the U.S. national team is over.  
Columbus Crew coach Gregg Berhalter will be confirmed as the new U.S. manager on Sunday, sources have confirmed to Goal.  
USMNT general manger Earnie Stewart made the decision to hire Berhalter after considering a handful of candidates, including former FC Dallas coach and recent Club Tijuana hire Oscar Pareja. 
Berhalter is expected to be presented at an introductory press conference in New York on Tuesday. 
The 45-year-old will formally begin work as U.S. coach in January when the national team convenes for its annual winter training camp, with his coaching debut set to come on Feb. 2 against Costa Rica, in San Jose, California. 
Berhalter's hiring ends a search for a new head coach that began shortly after the United States failed to qualify for the 2018 World Cup back in October of 2017. Then-coach Bruce Arena stepped down and assistant coach Dave Sarachan took over as the team's caretaker manager. Sarachan wound up filling that role for more than a year due to a changing landscape at U.S. Soccer. 
The failure to qualify for the World Cup led to the election in February of a new president of U.S. Soccer, Carlos Cordeiro. The elections delayed the hiring of a head coach as Cordeiro almost immediately focused his attentions on helping the joint USA-Mexico-Canada bid to host the 2026 World Cup, which eventually won out back in June. 
Stewart was hired as general manager for the U.S. national team in early June but didn't formally begin the job, and the coaching search, until August 1, after completing his duties as Philadelphia Union sporting director. A teammate of Berhalter's on the 2002 U.S. World Cup team, Stewart downplayed the notion that Berhalter would be hired because he and Stewart were friends. 
"That is something that has been brought to my attention, that [Berhalter] is going to be [head coach] because he's a friend of mine," Stewart said in September. "Now that part I don't understand. We played together, and we've communicated with each other, but 'friends' is a little overboard I'd want to say. 
"I know Gregg from the past. He was a coach in Sweden and he'd call me for advice, and I would do the same, vice versa, but we have a professional relationship and we played with each other. Then again, I can say that about a lot of others at the same time."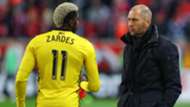 In that same September media roundtable, Stewart shot down the notion that Berhalter was a shoe-in for the job who had already been chosen. 
"That's not the case," Stewart said. 
Three months later, Berhalter has been hired as the new coach, topping a field of potential candidates that included several with more experience. 
Berhalter's managerial career began in 2012, with Swedish club Hammarby. He spent parts of two seasons in Sweden before being fired.  
He joined the Columbus Crew in 2014, spending five seasons as head coach and sporting director, helping lead the team to the playoffs in four of those five seasons, including a run to the 2015 MLS Cup final. During his time in Columbus, Berhalter's Crew teams developed a reputation for playing attractive, possession-based soccer, and the club enjoyed success despite having one of the lowest payrolls in MLS. 
"What he's done with much less budget than the other teams historically in the playoffs is remarkable, so you have to give him a ton of credit for that," former USMNT legend Landon Donovan told Goal. "I didn't need to be reminded that he's a good coach, but maybe some people did. He's certainly shown that through the playoffs and I think he would be an excellent choice if he were hired." 
As a player, Berhalter spent much of his career in Europe, with stints in England and the Netherlands before a seven-year run in Germany. He eventually returned to the United States, spending three seasons with the LA Galaxy. The last of those seasons, in 2011, saw Berhalter serve as a player-assistant coach on a Galaxy team that won the MLS Cup final. 
Berhalter made 44 appearances for the USMNT and was part of the 2002 and 2006 World Cup teams. He played in two World Cup matches, starting in the team's historic 2-0 round of 16 win against Mexico and was a starter in the 2002 quarterfinal loss to Germany. That match is remembered for Berhalter sending a shot toward goal that was blocked by what appeared to be a handball by German midfielder Torsten Frings. The penalty wasn't awarded, and the Americans were eliminated 1-0. 
Sixteen years later, Berhalter takes over as USMNT coach with the team in a period of transition following the failed 2018 World Cup qualifying process. He will be tasked with integrating a new generation of talent while trying to establish a recognizable playing style.