Manchester City
Sorry, Jurgen! Pep's magnificent Man City have one hand on the title after derby win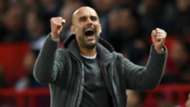 Exactly a week on from a night of heartbreak that would have devastated lesser teams, Manchester City have proven their character and ability once again to secure a victory that sees them place one hand on the Premier League title.
The Champions League leg of what would have been a quadruple has gone thanks to that most remarkably crushing of nights against Tottenham last Wednesday, but City are still on for an unprecedented domestic treble after a 2-0 win over Manchester United.
Pep Guardiola's side now need just three victories to successfully defend the title they won last season by racking up a record-breaking 100 points. If they do it, they will have done so with 98 this time around.
Not that it is done yet; Burnley away is never easy and stranger things have happened than dropping points to Leicester or Brighton.
But they are nearly there.
And they are nearly there because they have won the three league games that Guardiola prioritised back at the start of this month, when he picked his team for the first leg against Tottenham in Europe, knowing he would need players fresh for the trip to Crystal Palace, and huge games against Spurs and Manchester United.
Many wondered how City would react in that most recent clash with Spurs, given the ending of the second meeting. Yet they started finished and finished robustly, eking out a 1-0 victory that set them up for this titanic clash at Old Trafford.
And how it was set up. United's humbling defeat at Everton on Sunday meant their players needed to show a reaction here.
There was some debate among fans over whether they wanted to win the game at all, given any positive result for them would be a very positive result for Liverpool, City's title rivals, but if Ole Gunnar Solskjaer's players wanted to throw the game, they hid it brilliantly.
United made this had for City, make no mistake. The final analysis may show that the home side ultimately carried little threat, but they harried City throughout the first half and threw them off their game.
The passing combinations that Guardiola has drilled into them were not coming off. Vincent Kompany and Oleksandr Zinchenko had had shockers and were on yellow cards.
Fernandinho was a little sloppy in possession but he battled as he ever does and won the headers and second balls that ensured United's energy never really converted itself into proper opportunities.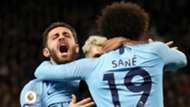 So, when the Brazilian went off at the start of the second half, things did not look too rosey for the Blues. Leroy Sane, once again left out of the starting line-up for a big game, came on. Bernardo Silva, not quite his slick self, moved into midfield. It's what many City fans wanted from the start anyway.
And in that sense they were right and Guardiola was wrong. The game turned instantly.
City quickly got into that position down by the left byline, Sane helping City get into the position they so like to cut the ball back from. Nobody was on the end of it but City were looking a bit more like themselves.
And then Bernardo Silva looked exactly like himself; Sane does not start because the Portuguese is that much more tidy, that much more intricate. He showed that once again, picking up a pass from Ilkay Gundogan, who had dropped back to replace Fernandinho and immediately looked at home.
Bernardo did his usual step or two inside and fired off a low shot that was not particularly powerful but was certainly precise. David De Gea could do nothing about it.
He could have done something about the next one, but at the same time it was Sane who showed that while he not be as consistent as the fantastic Raheem Sterling and Bernardo Silva, he certainly still offers a lot to this side.
With United now chasing the game, Sterling picked up the ball inside his own half, drove forward, picked out Sane in his usual left-sided position and the German fired off a shot that was struck far more fiercely and far less accurately than Bernardo's, but did the job all the same, as De Gea tried to kick it away and made a mess of it.
That goal ended the contest. Guardiola had watched much of the action between City's two goals from a crouched position in his technical area, presumably too tense to do anything else.
He has said time and time again that he will not manage into old age and with the nerves getting to him like this, it is easy to imagine that he will burn out long before regular retirement age.
He can breathe easier now, at least. Or maybe not. Gundogan also went off injured at the end and ahead of a trip to the ever dangerous Turf Moor on Sunday, City are suddenly light at the back of their midfield – such a crucial area for them.
But he would not swap City's position for anybody else's now. Guardiola pointed out afterwards that both City and Liverpool "deserve the title but there can be just one [winner]" and the champions need only to triumph in their three remaining games, against Burnley, Leicester and Brighton, to retain their crown.
Frustratingly for Jurgen Klopp's side, who have already broken their club-record points haul for a Premier League season, the title is in City's hands now, much to the delight of their Catalan coach, who couldn't have hoped to a better response to last week's Champions League exit.
"I think that is the most difficult and most nice detail for these players," Guardiola enthused.
"You cannot imagine how tough it was for all of us to go out of the Champions League when we thought it was there. It was really really tough. Then we have Tottenham at home, it was not the best performance but we stayed alive in the Premier League.
"How we react is more important than other things you can say, then we came here to United and won for the third time in a row, especially today with the all pressure we had. Nothing changes whether we win or not, they have my incredible respect."
If they did not have it before, surely they have the respect of most onlookers now. What a season they are having!