Jadon Sancho
Sancho shines on first England start to show Premier League youngsters the way forward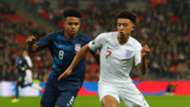 It was a night to pay tribute to Wayne Rooney, England's most celebrated boy wonder of recent times, but it was also an evening when a potential future headline act dazzled a Wembley crowd for the first time.
Jadon Sancho had become the 10th youngest player to pull on an England shirt with his substitute appearance against Croatia last month, and the 18-year-old was handed his first start in Thursday's 3-0 friendly win over the U.S. national team.
His performance on his full debut allowed Sancho to demonstrate the value of looking towards Europe as an avenue for opportunity and prosperity at a time when details of the Brexit deal which will see the United Kingdom leave the European Union emerge.
The Borussia Dortmund starlet is making Europe fashionable again for English footballers, and becoming a pioneer in taking a path that Gareth Southgate is encouraging for the next generation of Three Lions talent.
Reiss Nelson, who has followed him to the Bundesliga by joining Hoffenheim, and Jonathan Panzo at Monaco are just a couple more members of a movement for which Sancho is a poster boy.
Eight starts and nine substitute appearances this season have proved Sancho right in turning down a £30,000-a-week contract renewal at Manchester City in favour of more chances in Germany following his £8 million ($10m) move in the summer of 2017.
With five goals and seven assists this term, Sancho had more than earned his spot in the England squad, and against the USMNT he became the first overseas-based player to start for the Three Lions since David Beckham in 2009.
He marked the occasion, and potentially a brave new era for England, with an assist as he carefully rolled the ball to Trent Alexander-Arnold for the Liverpool defender to make it 2-0 on the night after Jesse Lingard's wonder goal had earlier delivered the opener. 
Dele Alli ran the show against an inferior USMNT and, for Sancho, playing alongside the likes of the Tottenham star is just the next stage in a rapid footballing development.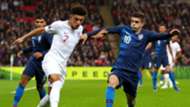 Dynamic dribbling, a final ball and speed of thought are the attributes which had set Sancho apart from other 18-year-olds back in his home country and it was a comfortable way for him to make his full debut.
Ahead of the match, he had spoken of how he was enjoying training with "living legend" Rooney, having just played the full 90 minutes in a massive 3-2 win for Dortmund over rivals Bayern Munich.
The night may have been an occasion to honour Rooney, along with England debuts for Callum Wilson, who scored the third goal, and Lewis Dunk, and further valuable international experience for Ben Chilwell and Alexander-Arnold, but it was Sancho who stood out as the possible future difference maker for a country starved of success.
English football has known about Sancho ever since City poached him from the Watford academy at 14. The step from academy football to club football is always the most difficult and it has become a particular problem at the highest level in English football.
Sancho had only trained for one week with Fabian Delph, who captained England on the night, but he has got to see the development before and after his England call up.
"I'm so pleased for him. Only 18 years old, to put in a performance like that," Delph said at Wembley Stadium. "it was a very, very mature performance. He's a special talent and the sky's the limit for him. He'll keep working hard and pushing forward, but I wasn't surprised.
"I knew what he was capable of. It's just pleasing that you guys get to see it."
But, in grabbing the spotlight at both Dortmund and on his Wembley bow, an outward-looking English talent proves a point. Sancho is not only the future of England, but so is his career path.