World Cup
Salah comes out to meet Egypt fans outside of home after address leaked on Facebook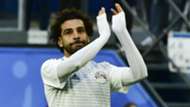 It could have been a frightening moment for Mohamed Salah.
The Pharaohs star is back in his native country after they crashed out of the World Cup with no points and was fitting in some much-needed relaxation at home when a huge crowd of fans turned up outside the door.
Crowds gather outside @MoSalah 's home in #Egypt after his address was leaked on Facebook . So what does he do? He comes out to greet people and sign autographs...
We are not worthy of #MoSalah pic.twitter.com/85tlob2bDB

— shaimaa khalil BBC (@Shaimaakhalil) June 29, 2018
The Liverpool forward was his nation's biggest hope in Russia after an exceptional year, but was limited to just two games because of a shoulder injury he suffered in the Champions League final.
The fanatic Egyptian fans were left wanting more of the man who scored both of their goals in the tournament and, when the 26-year-old's address was leaked on Facebook, they seized their chance.
Salah's street was overrun by people and cars as they all stood outside of his house.
While some players would have been scared of seeing such chaos outside their door, Salah did not leave his supporters waiting long before coming out to embrace them and sign some autographs.
I feel sorry for @MoSalah .
I didn't even know he was here. its literally shocking to see a massive amount of people gathered around his house ,and the traffic was unbearable! I know that people love him but at least give him some personal space! #MoSalah #محمد_صلاح pic.twitter.com/n2aA5W7Xp6

— روضة (@Rawda_tfr) June 29, 2018
The delightful occasion comes amid the news that Salah is considering quitting the team because he feels he was used as political capital by the Egyptian Football Association and Chechnya's leader Ramzan Kadyrov.