Russia vs Croatia: Live blog, text commentary, line-ups, stream & TV channel
Goal
Jul 07, 2018 06:26 UTC +00:00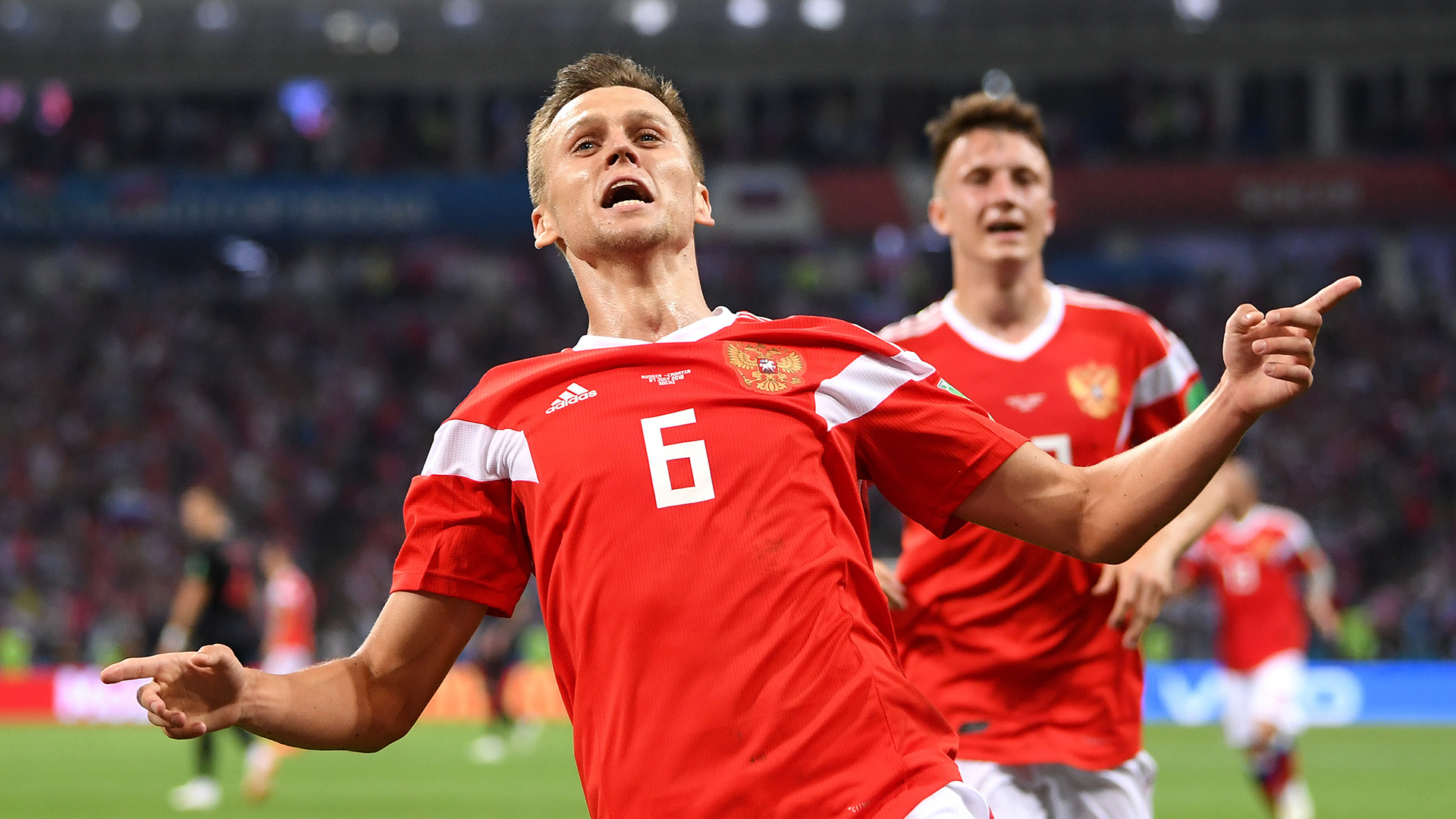 Getty
Rakitic buries it into the bottom-left corner as Akinfeev goes the wrong way and Croatia are through to the last four in a World Cup for the first time since 1998! Their players wheel away in celebration; Zlatko Dalic is hoisted by his assistant on the touchline. Russia drop to their knees. Mario Fernandes looks distraught. Luka Modric looks to be floating on clouds. What drama. It was not a vintage encounter by any stretch - but what absolute drama. Full-time at Sochi, it finishes Russia 2 (3) - (2 (4) Croatia.
---
RAKITIC SCORES! 3-4! CROATIA ARE THROUGH TO THE SEMI-FINALS OF THE 2018 WORLD CUP!
KUZYAEV SCORES! 3-3. The next to win it for Croatia.
VIDA SCORES! He sticks it to the left with a rocket shot. 2-3. Russia must score to stay in this.
IGNASHEVICH SCORES! He blasts it into the bottom-left corner. 2-2.
MODRIC SCORES! Akinfeev gets a hand to it - and it deflects in off the crossbar! So cruel. 1-2.
FERNANDES MISSES! The man who gave Russia hope pushes his shot wide of the left post. 1-1.
KOVACIC MISSES! Akinfeev dives left and tips it round the post. 1-1.
DZAGOEV SCORES! He casually rolls it into the bottom-right corner as Subasic goes the wrong way. 1-1.
BROZOVIC SCORES! Akinfeev goes to his left but the Croatian man puts it at a good height to beat him. 0-1.
SMOLOV MISSES! Subasic goes the right way and almost leaps off the line to save it. A poor penalty.
---
Russia will go first and Fedor Smolov will be the man to take, against Subasic.
This will be a major test for both teams and their goalkeepers, Igor Akinfeev and Danijel Subasic - especially the latter who, though seemingly recovered, did have a late injury in regular time.
For the fourth time in this World Cup, for the second time involving these two teams and for the first time in the quarter-finals, we are heading to penalties. Mario Fernandes' late header proved to be enough for Russia to claw their way back - and now the hopes of both nations rests on a second shoot-out in as many games. After extra-time, it's Russia 2-2 Croatia.
END OF EXTRA-TIME: RUSSIA 2-2 CROATIA
---
120 Mins: One added minute - and Brozovic is slipped a perfect ball into the Croatian box that he ignores! Every single player looks out on their feet as both sets of players stumble around.
119 Mins: Zobnin! He fires a low shot towards the bottom-left corner from 25 yards out and Subasic makes another wonderful stop to deny him. Mere seconds remain.
117 Mins: Is there one more twist in this game or are we headed for penalties in the quarter-finals?
115 Mins: AND THEY GET IT THROUGH FERNANDES! RUSSIA EQUALISE! 2-2! The boy from Brazil - representing the host nation thanks to a presidential decree - nods home Dzagoev's free-kick with a great glancing header to tuck it into the bottom-left corner. What a goal; what a game we have on our hands.
114 Mins: Pivaric concedes a handball on the edge of the Russia box! On the right corner, the Croatian man clearly handles it in front of the referee and the free-kick is awarded. The hosts desperately need their equaliser here.
113 Mins: Subasic again with the save! He stops a Smolov cross from flying across the face of his box, tightly turned in from the left. This is some feat from the keeper who is looking in more discomfort by the minute.
111 Mins: Kuzyaev! A half-volley second effort from a corner pushes Subasic to the ground - but the keeper grimly holds on. That could be Russia's last chance, given their lack of forward intent.
109 Mins: Gazinskiy cuts down Mandzukic on halfway and is booked for his foul. When the Croatian man stays down, boos ring around Fisht Olympic Stadium in response.
108 Mins: Zobnin and Rebic engage in a foot-race for the ball on the Russian left-wing; the former goes down and gets the free-kick in his own half.
106 Mins: Here we go then; is this Russia's final quarter-hour at their own World Cup? Sochi awaits a vital fifteen minutes of football as Croatia look to hold on.
---
Domagoj Vida's header is the difference between the two sides after 15 minutes of extra-time and, having never been ahead in this game, Croatia are suddenly in the driving seat for a first World Cup semi-final since 1998. Danijel Subasic is still not fully fit in goal for them though; will the hosts be able to exploit his weakness and score an equaliser? Time is running out; at half-time in extra-time, it's Russia 1-2 Croatia.
HALF-TIME IN EXTRA-TIME: RUSSIA 1-2 CROATIA
---
105 Mins: Two added minutes in this first period of extra-time.
104 Mins: Back-to-back corners for Russia yield no luck, though Kuzyaev goes close with a header. The host nation's dream looks to be fading, if Croatia can just hold on.
102 Mins: Russia's response is to bring on Alan Dzagoev for Golovin; they have less than 20 minutes to turn this around.
102 Mins: Vida is belatedly booked for his celebration after he removed his shirt too.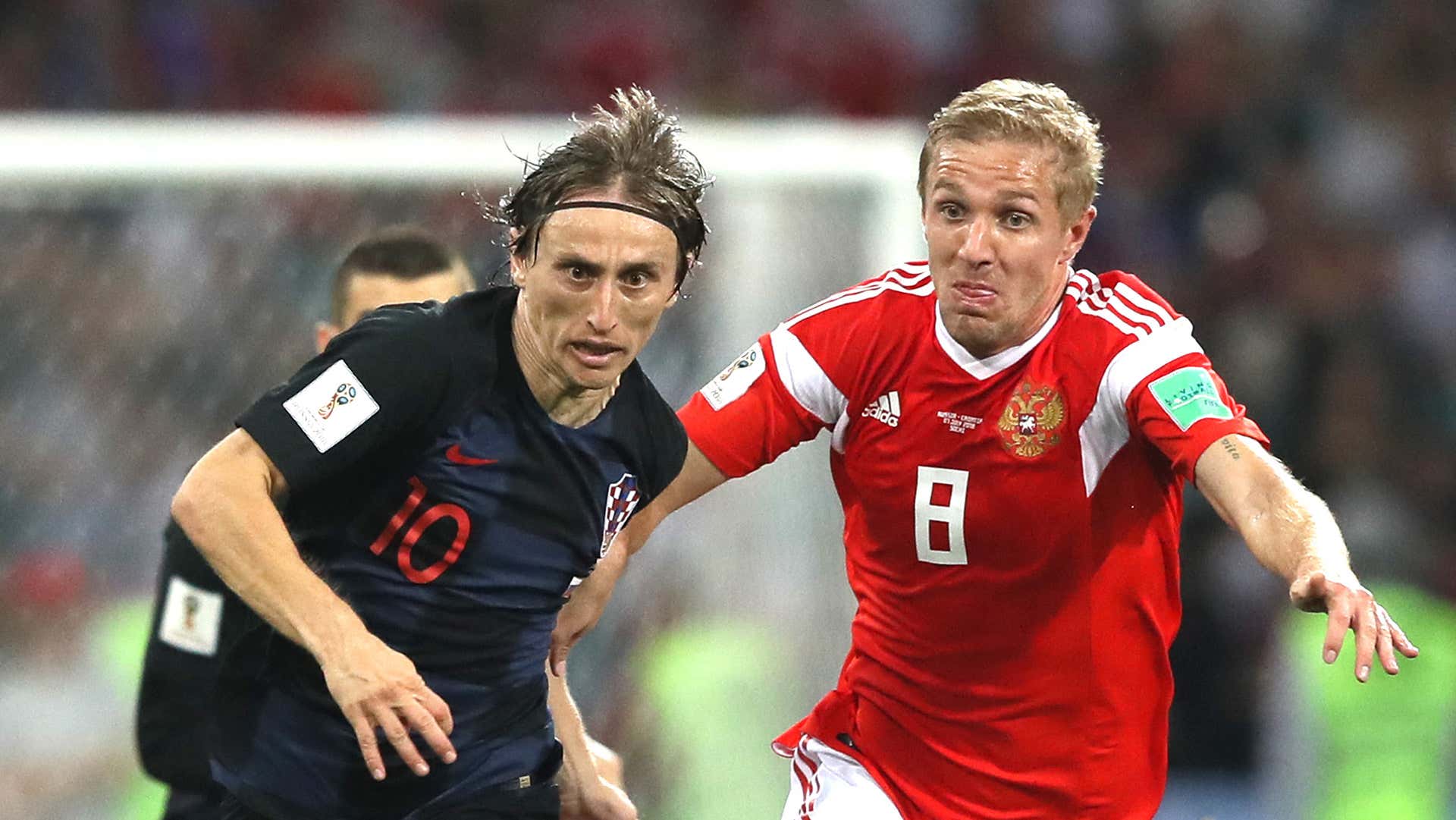 100 Mins: VIDA GIVES CROATIA THE LEAD! From a corner Croatia didn't need after Kutepov blasted a safe cross out of his own keeper's hands, it is the Besiktas man who gives his side the advantage for the first time in this game with a well-directed header that flies in at the bottom-right corner. Russia are stunned - they trail after 100 minutes.
99 Mins: Smolov goes down in the Croatian box! No penalty is forthcoming on the back of a Russian break and replays show that the forward went down cheaply against Lovren.
97 Mins: The change is in - and Vrsaljko has not recovered from his injury. Vedran Corluka is the man who arrives to bolster Croatia's defence, meaning Subasic will have to stay out there until the end - and that very well may include a penalty shoot-out.
96 Mins: Now Mandzukic is hobbling in midfield as Russia swarm forward again through Smolov to no avail. Croatia are walking wounded right now, it seems.
94 Mins: Croatia appeared poised to make a change to repalce Vrsaljko, with the right-back having pulled up with a leg problem - yet they instead hold off, playing with 10 men as he gets treatment in the technical area. If Subasic isn't fully fit, it will be a massive risk to leave him on.
92 Mins: The sides are playing in the directions they did in the first half, and Russia are making the earlier moves with intent. They press down the right wing before conceding the throw-in as Croatia prepare for a change.
91 Mins: We're underway in extra-time in Sochi, with Russia earning an early corner that they can't create a decent chance from. Subasic remains on for Croatia and looks to be a little more limber.
---
Are Croatia going to be forced into an early fourth change? Danijel Subasic's late injury saw the keeper down for a prolonged period of time; Zlatko Dalic may need to switch him out for either Dominik Livakovic or Lovre Kalinic.
It's going to be the long way round to Moscow for one of these two sides; we're headed to extra-time in Sochi! Both teams had chances to snatch a winner - mostly Croatia, with Ivan Perisic hitting the left post and getting a freak deflection in return. Otherwise, it was a less-than-stellar half of football - and they'll have 30 more minutes to seperate themselves before a potential penalty shoot-out. At the end of regular time at Fisht Olympic Stadium, it's Russia 1 Croatia 1.
FULL-TIME: RUSSIA 1-1 CROATIA
---
90+4 Mins: Smolov breaks and tears down the right wing, before cutting close inside the edge of the box and firing at Subasic. It's a powerful shot that the keeper stops but it topples him and Lovren has to blast it away.
90+3 Mins: Fernandes manages to herd a Croatian throughball out for a goal-kick before Pivaric can get to it.
90+2 Mins: Modric earns a corner off Kutepov, and plays it short and fast. Russia read it and force another set-piece; this time, the Real Madrid man wastes it.
90 Mins: There will be five added minutes as Subasic looks to move more freely. He does so, throwing the ball out to his defence to get play back underway.
89 Mins: This doesn't look good for Croatia. A routine stop from Subasic on the back of a Russia break down the left sees the keeper collect the ball, then keel over untouched in agony clutching his hamstring. He does not look like a happy man.
88 Mins: Croatia make their third change now too; Kramaric is replaced by Mateo Kovacic.
87 Mins: Erokhin concedes a corner under little pleasure with a poor pass and Modric swings it in. Vida puts it well over the crossbar, though Russia are awarded a free-kick for a shove in the box.
85 Mins: It's a great delivery by Golovin but Vida heads away to safety in a cluttered box and Croatia breathe easy for the moment.
84 Mins: Vrsaljko concedes a handball 25 yards away from his own goal on Russia's left flank and the hosts pile forward into the box. They'll still win this one if they can before the clock runs out...
83 Mins: 10 of Croatia's last 13 World Cup goals have come in the second halves of their games; do they have one more with regulation time running out?
81 Mins: Erokhin is down in the Croatia box having failed to connect with a square pass, with medics treating him on the turf. He thankfully seems alright to continue - though it is unclear what the problem was.
79 Mins: Russia make their third - and possibly final - change as Dzyuba, who has been flagging alone upfield with the midfield dropped deep, replaced by Yury Gazinskiy.
79 Mins: Rakitic spears a cross to the right wing from 30 yards out; Vrsaljko falls over and can't connect with it, allowing Russia to clear through Kudryashov.
77 Mins: Modric whips in the corner - and Mandzukic's header in the centre of the box makes more distance vertically than horizontally. Goal-kick to Russia.
76 Mins: Modric and Vrsaljko both see attempts deflected inside the box but Croatia come up with a corner after some frantic Russian blocking prevents a goal.
74 Mins: Josip Pivaric is the latest change for Croatia, replacing Strinic. Just over quarter of an hour left of regulation time with the scores still locked.
72 Mins: Erokhin! What a chance for Russia as the substitute pushes over - following much probing - a cross from Fernandes, putting it onto the roof netting of the goal.
71 Mins: Dzyuba looks to whip down the right wing on a counter-attack, relatively isolated from his teammates; Vida smashes into his side and gives away a free-kick on halfway.
69 Mins: Vrsaljko blows a cross in from the right wing, looking for Rebic inside the box; instead, it sails well past his own man and finds Fernandes instead who ferries it away from danger.
67 Mins: Russia make their second change and again it suggests that they have an eye on this game going beyond regulation time; Cheryshev makes way for Fyodor Smolov.
65 Mins: Contrasting approaches for the two so far with the ball at their feet; Russia have only mustered 142 passes so far whilst Croatia have made 349.
63 Mins: An interesting change from Croatia now as Perisic - one of their stronger performers across the pitch - makes way for the more defensive Marcelo Brozovic. Does this mean a switch for Modric to attack? Or are Croatia also bulking up at the back to play this one through to extra-time?
62 Mins: Dzyuba gets the header from the corner but can only put it to Subasic with a weak finish.
61 Mins: Russia win themselves a corner now as they come downfield, with Vida forced to block a close-range cross from Erokhin.
59 Mins: Perisic is denied by the post! What a miss from the Inter man as he squeaks a shot off from eight yards out that hits the left upright and rebounds across the face of goal, half crossing the whitewash on its way. How that did not go in, we will never know.
58 Mins: Are Russia - consciously or subconsciously - setting up for extra-time and penalties? Their defensive line is sat deeper than it did in the first half and, that last move aside, they have looked unlikely to trouble Croatia's back third much, with the opposition pushing harder.
56 Mins: Dzyuba breaks on a dizzying run through midfield, and slips Cheryshev down the centre-right flank. The goalscorer goes down in a tough tackle but Croatia are deemed to have won the ball fairly and no free-kick is given.
54 Mins: Samedov is the man who departs for the hosts, having come into this game with a knock; Aleksandr Erokhin is his replacement.
53 Mins: Vrsaljko is down in back-play, rolling around after he was allegedly caught hard by a trailing leg from Cheryshev. The referee doesn't seem sold, though Russia will use the break in play to make a change.
52 Mins: Kramaric goes for the overhead kick! He gets very little power behind it though and the ball drifts aimlessly to Akinfeev instead.
50 Mins: Vrsaljko finds himself inside the Russia box, yet is unable to get a shot away - and on the next play, Modric sprays a 20-yard shot wide at the far-left post by some distance.
48 Mins: Some speculative Russian play, spearheaded by Dzyuba, comes to nothing as a final pass drifts to Subasic inside his box unchallenged.
46 Mins: We're back underway in Sochi; will either side find themselves a winner in regular time or are they, as they were in the round of 16, destined for extra-time and penalties?
---
It's arguably been Russia's best half of football since their demolition of Saudi Arabia in their opening game but Stanislav Cherchesov will have been less than impressed to concede so cheaply. For him, it will be a case of shoring up his defence in the second half, much as he did against Spain. For Croatia, they look marginally better than they did against Denmark, in one of the World Cup's more dismal ties so far - but still far off the pace of the side who dismantled Argentina. Zlatko Dalic needs more pace; will he make an early change?
It's all square at the break in Sochi - and for the last third of the first half, it has been one thrilling quarter-final. Both sides looked liable to drop off in the first half-hour before Denis Cheryshev scored for the hosts with one of the best goals of the tournament - and after that, it was all guns blazing as Andrej Kramaric headed home a leveller two minutes later. For the first time in the last eight, it's level pegging at the interval; are we headed for extra-time and penalties at Fisht Olympic Stadium? At half-time, it's Russia 1-1 Croatia.
HALF-TIME: RUSSIA 1-1 CROATIA
---
45 Mins: Two added minutes on the way in Sochi.
43 Mins: Dzyuba looks to have come away with the ball inside the Croatian box after a scramble for a cross; instead, he is penalised for a shove on Lovren and concedes the free-kick.
41 Mins: Russia had 10 shots on target in their first two 2018 World Cup games – they have managed just two in their last two matches, before today's game.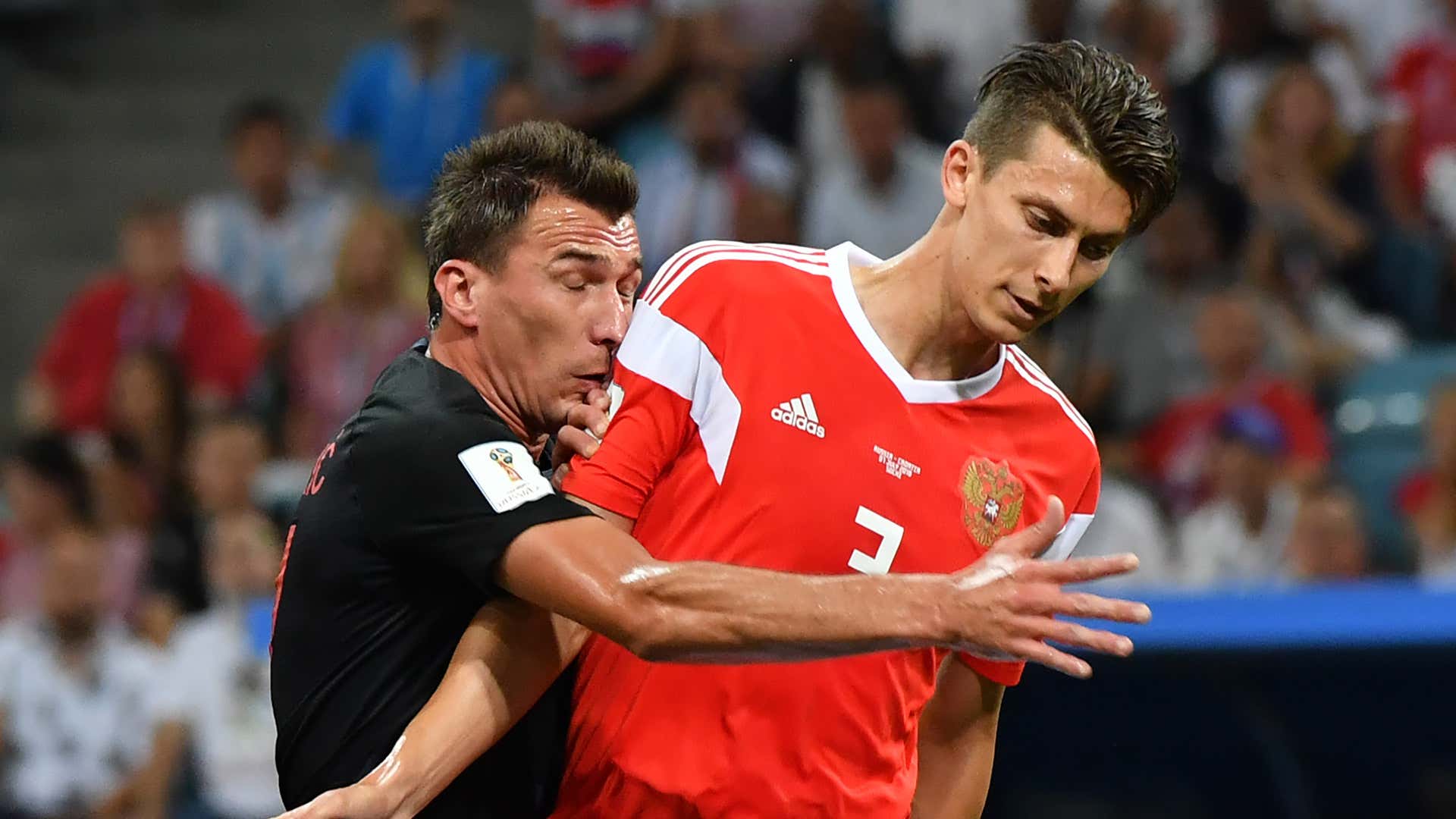 39 Mins: KRAMARIC EQUALISES FOR CROATIA! 1-1! Russia's eight-minute lead comes to an abrupt end as they concede a soft goal on the back of a Mandzukic break, with the striker turning in a simple cut-back pass off the left wing, unmarked, for his teammate to head home behind Akinfeev on the right. Simple football; the hosts were caught in a woeful position there. All square in Sochi.
38 Mins: Strinic does it again, this time in his own half, and referee Sandro Meria Ricci shows him the yellow card. From the break, Cheryshev sticks his effort into the side netting; close to a second goal.
37 Mins: Russia are playing with confidence right now, slipping through the cracks of Croatia's midfield all too easily. Fernandes squares two close passes in from the right in back-to-back attacks and then Dzyuba gets a free-kick after Strinic drags him back by his shirt.
35 Mins: Dzyuba looks to spark a counter from a Croatian corner after Ignashevich conceded; Lovren hacks at his ankles on halfway as the last man to stop the attack and gets a booking.
33 Mins: Now how do Croatia respond to this? Rebic scuffs a shot from a similar distance from the restart, low and bobbling. It looks to be heading wide but Akinfeev collects regardless.
31 Mins: CHERYSHEV FOR RUSSIA! 1-0! What an outrageous strike from the Villarreal man! Dzyuba slips around the Croatian defence and squares a ball to his striker, who takes one step around Vida and launches a 25-yard shot that nestles itself behind a shocked Subasic in the top-left corner! The hosts have the lead just after the half-hour mark!
30 Mins: Cheryshev manages to brush his head across the set-piece delivery but it only goes to Subasic who stops it with ease.
29 Mins: Strinic gives away a foolish free-kick with a clumsy challenge on Samedov, out on the right wing. Russia are within touching distance of the Croatian box here.
28 Mins: Vrsaljko guides a lovely ball in behind the Russian defensive line for Perisic to head home, but the Croatian man can only push his header wide at the far-left post.
25 Mins: Fernandes knocks a ball in for Samedov off the right wing, only for Vida to head it away at the edge of his own penalty area. Croatia then win a free-kick after the pair bring down Rakitic.
22 Mins: Zobnin blasts a wide cross from near his own halfway line, looking for a marauding Fernandes out on the right. He puts a bit too much oomph behind it though and it skips away for a Croatian goal-kick.
21 Mins: Croatia have faced the host nation at the World Cup twice previously, losing both matches against France in 1998 (1-2 in the semi-final) and Brazil in 2014 (1-3 in the group stages).
19 Mins: Croatian fans are re-enacting their own version of Iceland's "thunder clap" as their side lull from their early attacking intent. Rakitic looks to avoid a tackle from Kutepov and in the process boots the ball away to no-one, watching as it rolls out for a goal-kick.
17 Mins: A never-say-die chase from Fernandes down the right wing catches the Croatian defence off-guard and the right-back's cut-back on the line finds Samedov in the box. He can't control his first touch though, spilling the ball forward, and Subasic takes possession.
16 Mins: Rakitic looks to curl it into the near-top corner; he is some distance off target however and Akinfeev is left untroubled by his effort.
15 Mins: Rebic wins himself a free-kick 20 yards out on the left, near the edge of the Russian box, and Croatia have a wonderful chance to claim an early goal in this encounter.
14 Mins: Dzyuba hares off down the left wing on a break with none of his teammates in support; by the time Samedov arrives on the right to meet a belated cross, Croatia's defence has massed back to shut down a lacklustre attempt.
12 Mins: Mandzukic! That should have been finished better by the Croatian forward as he sticks a wonderful square pass from Vrsaljko somewhere into orbit from eight yards out.
11 Mins: Modric turns the corner in and sees it carted away to midfield by a Russian counter led by Zobnin.
10 Mins: Fernandes deflects an attempted cross on the left from Perisic and Croatia have a corner.
9 Mins: Samedov commits a foul in midfield and from the free-kick, Vrsaljko turns in a lovely ball looking for Perisic who can't quite make the connection before Kudryashov wheels away with possession.
7 Mins: Lovren heads across the corner to Rebic who puts his own header just over the crossbar. Russia's marking in the box from that set-piece was rather loose there.
6 Mins: A great show of strength from Rebic earns Croatia a corner on the right after he turns Ignashevich inside out and sees his tight shot deflected wide by Akinfeev.
5 Mins: Russia turn their corner wide towards the edge of the 18-yard box through Golovin and Croatia deal with ease through Kramaric.
4 Mins: Golovin turns a great cross in from the right edge that Cheryshev can't just reach. Dzyuba lashes in a second attempt from 10 yards out but it blows off Lovren and out for a corner.
2 Mins: Dzyuba feeds a lovely throughball past the Croatian defence for Cheryshev and Russia's top scorer in this World Cup is away into the box. Vrsaljko darts across him to block his shot and manages to keep the ball in play for good measure too.
1 MIn: We are underway in the last quarter-final of Russia 2018! It's Croatia who kick-off but after a few scrappy opening plays, it is the hosts who come up with a throw-in on the right touchline just inside opposition territory.
---
Anthems have concluded and we're moments away from kick-off.
The teams are out in Sochi for the national anthems.
Russia will take some heart into their game at Sochi from the previous record of host nations at this stage; the last five countries playing in their home World Cup to make the quarter-finals have all progressed to the last four ((Italy 1990, France 1998, South Korea 2002, Germany 2006 and Brazil 2014).
Croatia appear in their second quarter-final at the World Cup after France 1998, when they knocked out Germany on their way to a third-place finish.
This will be the fourth encounter between the two nations and the third competitive game after a pair of goalless draws in the Euro 2008 qualifiers. Their one other meeting, a 2015 friendly in Rostov, ended as a 3-1 victory for Croatia, with Mario Mandzukic scoring their third goal.
Subs: Tin Jedvaj, Filip Bradaric, Lovre Kalinic, Mateo Kovacic, Marko Pjaca, Marcelo Brozovic, Milan Badelj, Duje Caleta-Car, Vedran Corluka, Dominik Livakovic, Josip Pivaric.
CROATIA (4-2-3-1):Danijel Subasic; Ivan Strinic, Sime Vrsaljko, Domagoj Vida, Dejan Lovren; Luka Modric, Ivan Rakitic; Andrej Kramaric, Ivan Perisic, Ante Rebic; Mario Mandzukic.
Subs: Yuri Gazinskiy, Andrey Lunev, Vladimir Granat, Andrey Semenov, Aleksey Miranchuk, Anton Miranchuk, Fedor Smolov, Yuri Zhirkov, Vladimir Gabulov, Igor Smolnikov, Aleksandr Erokhin, Alan Dzagoev.
RUSSIA (4-2-3-1): Igor Akinfeev; Ilya Kutepov, Sergei Ignashevich, Mario Fernandes, Fedor Kudryashov; Roman Zobnin, Daler Kuzyaev; Aleksandr Samedov, Aleksandr Golovin, Denis Cheryshev; Artem Dzyuba.
As for Croatia, they too make a single swap, as Zlatko Dalic prefers Andrej Kramaric over Marcelo Brozovic, the former scoring a penalty in the 3-2 shoot-out win over Denmark after coming off the bench in extra-time.
15 Mins before KO: Team news now and it's just a single change from Stanislav Cherchesov, the unlikely mastermind of Russia's run to the last eight. A calf problem for Yuri Zhirkov means top scorer Denis Cheryshev comes back in having been dropped for the tie with Spain.
Two of three teams to progress from the round of 16 on penalties, neither Russia nor Croatia looked overly convincing against Spain and Denmark - but both showed resolute defence in the face of stern attack to help draw their games past extra-time. With no need for the additional half-hour in the quarter-finals yet, will this be the game that delivers an encore?
Written off in the build-up as one of the worst sides in Russian history, the host nation have gone further than ever before in their home tournament, reaching the final eight for the first time since the dissolution of the Soviet Union. Is there another page in their fairy-tale adventure? Or can Croatia close the book on an incredible chapter to reach the semi-finals themselves two decades on from their best-ever finish?
30 Mins to KO: Hello and welcome to live coverage of the 2018 World Cup as Russia face off against Croatia in the last match of the quarter-finals at Fisht Olympic Stadium in Sochi.
---
Confirmed Line-ups
---
Russia have not sprung any surprises with their starting XI for the game, with their favoured 4-2-3-1 formation to be deployed again.
Croatia, on the other half, have made one alteration, fielding Anndrej Kramaric instead of Marcelo Brozovic, who had been expected to feature.
Russia XI: Akinfeev; Fernandes, Kutepov, Ignashevich, Kudryashov; Zobnin, Kuzyaev; Samedov, Golovin, Cheryshev; Dzyuba.
Croatia XI: Subasic; Vrsaljko, Lovren, Vida, Strinic; Rebic, Rakitic, Modric, Perisic; Kramaric; Mandzukic.
---
TV Channel, Live Stream & How To Watch
---
In the United States (US), the game can be watched live and on-demand with fuboTV (7-day free trial).
New users can sign up for a free seven-day trial of the live sports streaming service, which can be accessed via iOS, Android, Chromecast, Amazon Fire TV, Roku and Apple TV as well as on a web browser.
In the United Kingdom (UK), the game can be watched live on TV on ITV or streamed live online using the ITV Player.
| UK TV channel | Online stream |
| --- | --- |
| ITV | ITV Player |