WTF
Ronaldo sculptor back again with Gareth Bale bust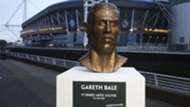 Terminator 2, The Godfather Part II, Aliens - some sequels are better than the original. They improve on everything that was good in the first attempt and make it better.
American Psycho 2, The Hangover Part III, The Matrix Reloaded - some other sequels are absolutely horrendous.
The worst signings of the season
When the sculptor of the now infamous Cristiano Ronaldo statue came back with a follow-up, the world undoubtedly wondered would it live up to the original.
Emanuel Santos was commissioned by Paddy Power to create a bust of Wales and Real Madrid winger Gareth Bale ahead of the Champions League final, and has produced a masterpiece!
"I have become a bit famous since my Ronaldo artwork with people telling me how much it made them smile, so to bring another famous footballer to life is a true honour," Santos said.
"Maybe I'll create another one to make it a hat trick as they say in football."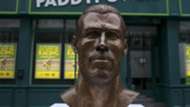 The bust took 264-man hours to complete, including a whole day of Google image research, weighs 40kg and has an estimated value of £25,000.
Judge for yourself: Is it as good as the original or even better?