Cristiano Ronaldo
Ronaldo scores first Champions League goal for Juventus with stunner against Man Utd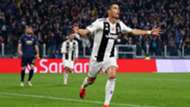 It took until his third Champions League match with the club, but Cristiano Ronaldo's first European goal for Juventus was worth the wait, even in defeat.
Tied with Manchester United in the second half of Wednesday's Champions League match, Ronaldo scored a stunning volley to give Juve a 1-0 lead in Turin.
The forward was played in by Leonardo Bonucci, and Ronaldo struck the ball first time out of the air, leaving David de Gea with no chance as Juventus surged in front following a tepid first half.
It wouldn't be enough for the hosts to secure victory, though, as Juventus were eventually pegged back on a goal from Juan Mata in the 86th minute that leveled the score, before an own goal from Alex Sandro in the 90th minute gave Manchester United an unlikely 2-1 away win. 
Cristiano Ronaldo scores first Champions League goal for Juventus! ⚫️⚪️

And what a way to do it! 😳🙌

UNREAL! 👏 pic.twitter.com/6G9siDmXZp
— Football on BT Sport (@btsportfootball) November 7, 2018
MR. CHAMPIONS LEAGUE IS BACK.
Cristiano Ronaldo's first #UCL goal for Juventus is a beauty

Can Man U respond? https://t.co/Zz3drP03Kb pic.twitter.com/dip6yxwznJ
— Bleacher Report Live (@brlive) November 7, 2018
Ronaldo was playing in his third Champions League match for the club after previously appearing against Valencia in Spain and against Manchester United in a return to Old Trafford.
He was suspended for Juve's second match, a win over Young Boys, after being sent off on his European debut for the club for grabbing Valencia defender Jeison Murillo.
The goal ended a drought for the former
Real Madrid
star, who hadn't scored on any of his last 20 Champions League shots over a span of 453 total minutes.
*goes to the gym once* pic.twitter.com/GTAQE5yqcY
— Bleacher Report Live (@brlive) November 7, 2018
That Ronaldo wonder-goal already a contender to be runner-up for next year's Puskas Award behind Salah's tap-in versus Huddersfield #JUVMNU
— Carlo Garganese (@carlogarganese) November 7, 2018
Watching Cristiano Ronaldo celebrate a goal against us... #mufc pic.twitter.com/HNyEE9MRMW
— United Xtra (@utdxtra) November 7, 2018
Ronaldo's celebration up close #UCL #JUVMUN 💪 pic.twitter.com/bYpblhcJ5m
— Football Daily (@footballdaily) November 7, 2018
Ronaldo also boosted what was previously a poor goalscoring record against countryman Jose Mourinho, as Wednesday's goal was just his second in 15 appearances against his former manager.
The goal was Ronaldo's eighth in 14 matches with Juventus, while the forward has also contributed six assists to start his career with the Serie A club.
With the loss on Wednesday, Juventus sit on nine points through four matches while the win pushes Manchester United to second in the group with seven points.
Valencia sit third with five heading into the next round of fixtures, where the Spanish club will face the Italian champions while Man Utd take on last-place Young Boys.