Lionel Messi
Ronaldinho: I must teach Messi a bit more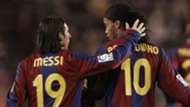 Ronaldinho has joked he wants to make good use of his ambassadorial role at Barcelona by teaching Lionel Messi a few things.
'We wouldn't sign Messi for free'
The Brazilian icon was one of the best players in the world during his time at Barca when Messi burst into the first-team, striking up a close relationship with him before leaving for AC Milan in 2008.
Since then, Messi has taken over as the new elite, becoming the first ever player to win five Ballons d'Or as he and Real Madrid's Cristiano Ronaldo compete exclusively for the top individual accolades.
Despite Messi reaching the top of the game, Ronaldinho still feels he can help him improve, having been recently been given a role at the club.
"I have to teach him a little bit more," he told  UOL,  before insisting that he is not ready to start focusing on such coaching responsibilities.
When asked if the fact he has not been at a club since a short spell at Fluminense in 2015 means he has retired, Ronaldinho rejected the idea.
 "No, calm down, I'm alright. Thank God I'm blessed for everything he gave me and the clubs I played for, but I have to go step by step."