Premier League
Pressure is on for Aguero, Jesus & Co. as Guardiola opts for safety over style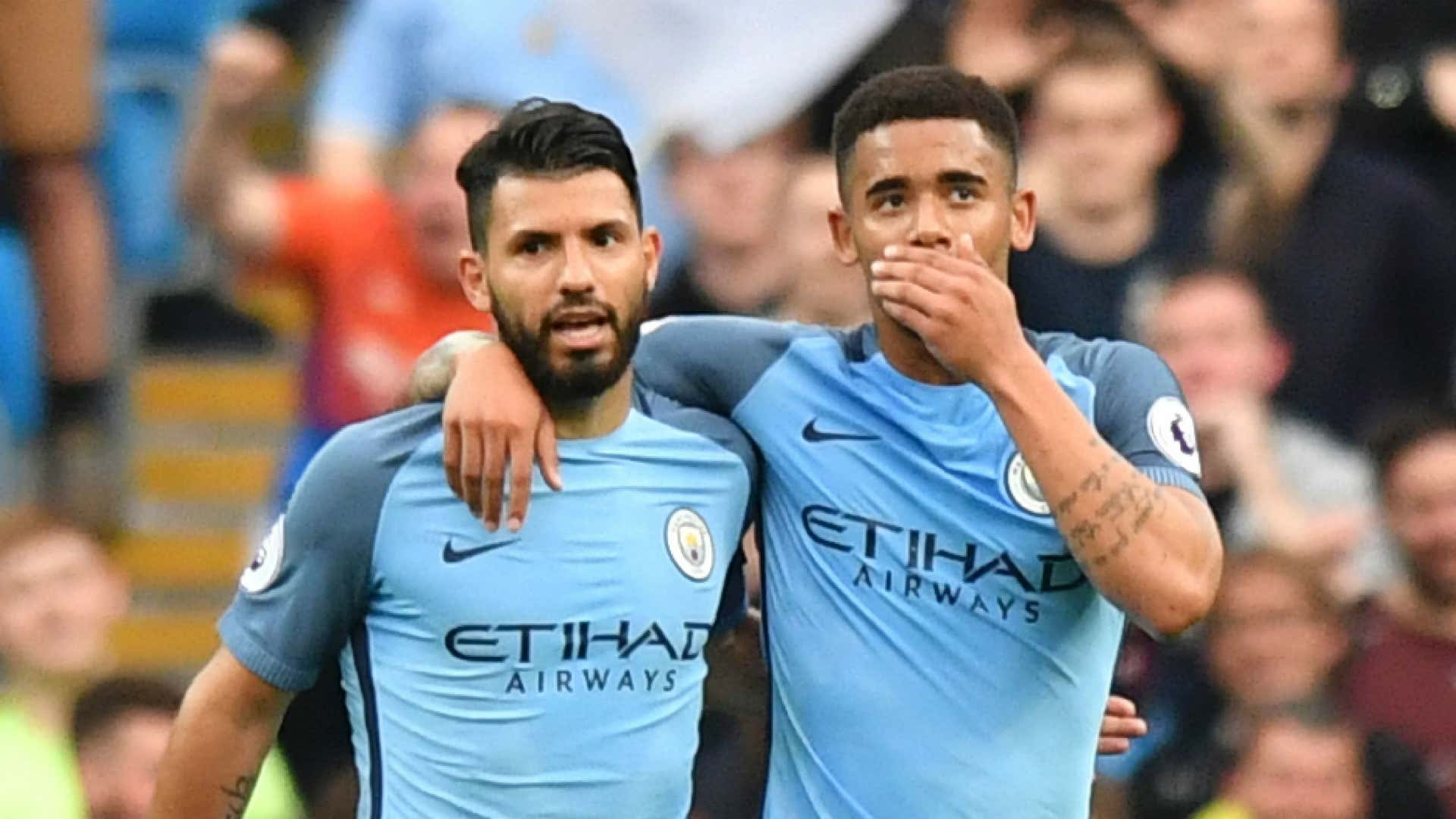 ---
COMMENT
---
Using stats to defend Pep Guardiola's style of football can be like arguing with a nightclub doorman - a futile exercise that usually does more harm than good.
Yet it is fair to say that when the Catalan first experimented with a three-man defence at Manchester City, when Everton visited last October, the results were promising.
With 73 per cent possession, 661 passes (to the visitors' 255), 19 shots, eight on target and two penalties, City exerted almost complete control.
City to win + BTTS tonight 15/8
It was one of the most complete performances of Guardiola's debut season in England and probably one which is most aligned to how he wants City to play in the coming years.
Yet their domination amounted to just one point. Maarten Stekelenburg saved the two penalties, added another truly world-class save to deny Kevin De Bruyne, and Romelu Lukaku scored on the break.
At the time, it was put down to bad luck.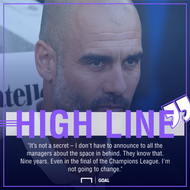 "We did everything. I am so proud of the team. We played amazing," the City boss said afterwards in what now seems a characteristically bolshie defence of a poor performance, yet this was the first time City had dominated a match and not won it.
And instead of providing a platform for better results, City struggled with the 3-5-2 for another two months until it was eventually ditched. As the season progressed, it became obvious that weak defending and poor finishing were more valid scapegoats than Lady Luck, no matter which system City played.
City ended the season in an attacking 4-3-3 that racked up plenty of goals and looked more comfortable, but it is the blueprint first revealed against Everton which Guardiola has tended towards heading into the new campaign.
The defence should certainly be stronger this time around. Kyle Walker and Benjamin Mendy should provide exactly what the old full-backs lacked, while Ederson has the attributes to be the answer in goal (even if mistakes are inevitable). The addition of Jonny Evans — if it can be concluded — would provide experience.
Though Guardiola is yet to bring in the forward he wants, with the 3-5-2 he does at least have a wealth of attacking options to bring off the bench, with Raheem Sterling, Leroy Sane and Bernardo Silva all left out on the opening weekend. That was simply not the case last term.
City face Everton at the Etihad once again on Monday, and the 3-5-2 is back. Against Brighton last weekend it helped yield 78% possession and 768 passes to the newcomers' 213, and while City were more than good value for their victory, there were signs that some familiar problems are still to be corrected.
Guardiola knows you do not always get what you deserve and he is concerned that both Gabriel Jesus and Sergio Aguero missed gilt-edged chances at 0-0. An admittedly brief flurry of Brighton corners also had Ederson and the City defence rattled, which will offer encouragement to many Premier League coaches.
Aguero did eventually break the deadlock but only after Brighton attempted to venture up field. De Bruyne and David Silva scythed through with a precision that few can match, but last weekend they again showed it is a much harder task when the opposition sit deep.
City's new-look back-line will of course have to stand up to the threat of the counter this season, but Guardiola was always keen to shift the blame onto his forwards when things went wrong. As he looks dominate matches in the coming weeks, it will be up to the league's best collection of attacking talent to make the difference.
Not that there has been much improvement on that front: "In Brighton, no. Against Tottenham, no," Guardiola responded when asked if his side have been any more decisive in front of goal.
More worryingly, his solution — the public solution, at least — is unconvincing: "I have enough good players in front who can score goals, so, 'Just relax and score goals' — that's what I tell them."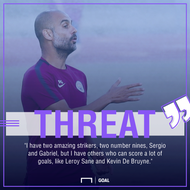 While the need for full-backs had long been identified, Guardiola went into the summer with Alexis Sanchez at the top of his priority list, while Kylian Mbappe would also provide that little bit of "something extra" the Catalan craves.
Both deals are exceedingly difficult to conclude, which is why City have gone into the season with essentially the same forward options as last season, and may have to rely upon them for the rest of the campaign.
On one hand, Aguero, Jesus, De Bruyne, Sane, Sterling and both Silvas are the best batch of attackers in the country. On the other hand, most of them simply missed too many chances when it mattered last season.
Guardiola will use the more attacking (and more open) 4-3-3 at some stage this season but, for now, he appears to prefer the extra control provided by his three-man defence and stocked midfield. That calls for extra precision in the final third.
Everton, then, will again provide a stern examination of exactly where the Blues are at right now.
Ronald Koeman has a good record against Guardiola and has already highlighted that he will again look to sit back and exploit the space behind City's high defensive line. The home defence will also have to be on their guard if set-piece maestro Gylfi Sigurdsson makes his debut.
But, once again, it will be down to the forwards to make all the passes and possession count. In that respect, it's the same old story.