Liverpool
Phil Neville reveals Liverpool star he wants at Man Utd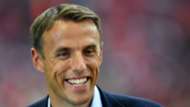 Former Manchester United defender Phil Neville has revealed the one Liverpool player he'd like to see line out for the Red Devils at Old Trafford.
'Moyes cannot get away with sexist threats'
The ex-defender, who lined out for United from 1994 to 2005 was asked on Twitter "Are there any players you'd take at united that play for Liverpool?" by user James Dames, and surprised many with his answer.
Neville replied that he would take England midfielder Jordan Henderson at United, prompting some followers to question the decision.
Henderson https://t.co/I6lIXhpV2o

— Philip Neville (@fizzer18) April 3, 2017
Twitter user Ryan Devlin replied to the suggestion of Henderson with the incredulous response "April fool's was on Saturday phil", while a social media user called Impulsion suggested: "He could have said Countinho or Mane and chooses Henderson."
@fizzer18 This is why you're not a coach at UTD any more

— Vik (@IconicNumber7) April 3, 2017
@fizzer18 Ridiculous, I'd rather have Anderson back!

— Damien McEvoy (@McEvoyDamien) April 3, 2017
@fizzer18 Henderson? Pogba's right foot is bigger than Henderson's entire career.

— Devam (@Devam_Mufc) April 3, 2017
@harry19631956 @McEvoyDamien @fizzer18 pic.twitter.com/uKZmqgF1uk

— Ray Rajani (@ManUtd_BITW) April 3, 2017
Neville won six Premier League titles and a Champions League while at United, while 26-year-old Henderson has only won one League Cup trophy to date at Anfield.