Arsenal
'Pathetic Arsenal should have been in for Drinkwater!'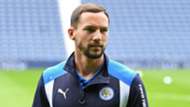 Arsenal missed another trick in what has been a "shambolic" season so far by allowing Chelsea to sign Danny Drinkwater, says Paul Merson.
The Gunners headed into the international break on the back of a humbling 4-0 defeat to Liverpool, before then enduring more transfer frustration on deadline day.
Arsenal 7/1 favourites to win the Europa League
While they were able to prevent Alexis Sanchez from leaving the club, his value is only going to fall as he continues to run down the final year of his contract.
Merson believes there are deep-lying problems at Emirates Stadium and feels more should have been done over the summer in order to get players in with a bit of "fight".
He wrote in his column for the Daily Star : "The players look like they couldn't have cared less [at Anfield]. You get the sack when your players don't look fussed. But not at Arsenal. It's all too nice.
"Arsenal should have bid for Danny Drinkwater rather than let him go to Chelsea. At least he will fight for you. This lot just give up.
"In my day, the dressing room after a performance like that would have been a war zone. You would have had to call the police because there would have been fights everywhere."
With the ex-Gunners forward clearly frustrated by what he is witnessing in north London, he then proceeded to further lay into Arsene Wenger's under-performing side.
Merson added: "Arsenal's 4-0 thrashing by Liverpool was the worst I have EVER seen under Wenger. It was shambolic, horrendous.
"I think the players have lost all respect for him. But I think the fans are losing all respect as well.
"They are playing for Arsenal and they are turning it into a mockery. They are embarrassing the football club.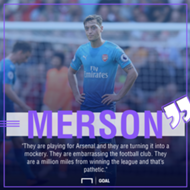 "It's becoming one of football's also-rans because they are a million miles from winning the league and that's pathetic.
"I'm disgusted. It's just an embarrassment from top to bottom. It frustrates me. And it will get worse too.
"There will be plenty more games like that to come. Yeah, there will be games when you look at Arsenal and think: 'Wow, they're a good team.'
"But there will be times when they get absolutely battered as well. This club should be playing for the Premier League title, not just trying to get into the top four.
"So if anyone should be under pressure it's Wenger, who now has to deal with a moody Alexis Sanchez for the next few months after his deadline day move to Manchester City collapsed in yet another farce."
Arsenal return to domestic action with a home date against Bournemouth on September 9, before then taking in another potentially make-or-break encounter with capital rivals Chelsea at Stamford Bridge – a stadium which has been an unhappy hunting ground for them in recent years.