Transfers
Ospina 'open to everything' as he hints at Arsenal exit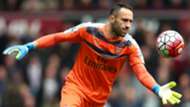 David Ospina has hinted at a summer exit at Arsenal, with the Colombia international goalkeeper admitting that he is "open to everything".
The 29-year-old moved to Emirates Stadium in the summer of 2014 and ousted Wojciech Szczesny during his debut campaign to make 18 Premier League appearances.
He has been restricted to just seven further top-flight outings since then, with the arrival of Petr Cech having nudged him down the pecking order.
Back-up duties have allowed him to grace cup competitions, but Ospina will be weighing up his options at the end of the season amid a lack of assurances regarding regular game time.
He told reporters head of an outing in the Carabao Cup final against Manchester City: "I am open to everything. Today I give everything for Arsenal, I like to be successful here, but you start to contemplate every alternative depending on each situation.
"I still have a contract, but as I say, I always like to have more opportunities, to have more continuity in the squad as every goalkeeper needs.
"Today, I am sharing my position with an excellent goalkeeper in Petr, but he knows that I like to play and I know he likes to keep playing, we have this competition between us, I just like to have continuity, I will think about the future at another moment.
"Today I live day by day, I don't like to say anything about the future but i will make the most of every each training session and every moment at Arsenal.
"The manager has his reasons for deciding who does or does not get to play..Our position as goalkeepers is a very complicated one because you have less opportunities, in the team there is just one player who plays in that role, and who gets the support. I always try to do my best.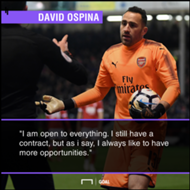 "Mistakes can happen but those mistakes (that the goalkeeper makes) are more visible to everybody, but I keep working, making the most of every opportunity that I have.
"When I speak to Wenger he always tells me that he trusts me. I will keep demonstrating my skills each time I get to play, in every training session, and I will keep waiting for my opportunity that I have been waiting for, and I will make the most of it, as I did in my first year at Arsenal.
"As I always say; for me to be part of Arsenal was and is a dream come true. When I used to think about it, it seemed so far away. I was able to materialise it and that's why I like to do my best, to be outstanding at Arsenal."