Didier Drogba
'One of a kind' - Chelsea legend Drogba reaffirms retirement after U-turn hint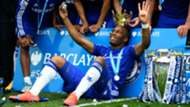 Didier Drogba has confirmed that he will indeed be ending his playing career as he took to social media to reaffirm his retirement.
The former Chelsea star announced earlier this year that he was set to step away from the game, but seemingly changed his mind in the days following the end of his USL campaign with Phoenix Rising.
However, Drogba took to Twitter on Wednesday to post a message thanking fans, family and team-mates for helping guide his career.
November 21, 2018
"When I think of the last 20 years of my professional career, looking at this picture can't make me more proud of what I've achieved as a player but most importantly how this journey has shaped me as a man," Drogba said.
"If anyone tells you that your dreams are too big, just say thank you and work harder and smarter to turn them into reality. #alwaysbelieve"
Drogba's final professional match was the USL Cup finale, a match that saw the Ivorian legend close his career on a bitter note with a 1-0 loss to Louisville City.
The 39-year-old forward has spent the last two seasons with Phoenix, where he is also a part owner, scoring 17 goals over his time in American soccer's second division. 
Drogba had announced that he would retire back in March, calling an end to a career that has also seen stops at Le Mans, Guingamp, Marseille, Shanghai Shenhua, Galatasaray and the Montreal Impact.
The announcement marks the end of Drogba's trophy-filled career, which included four Premier League titles, four FA Cups, a Super Lig crown, and, perhaps most memorably, the 2011-12 Champions League crown.
"I wanna thank all of the players, managers, teams and fans that I have met," he added, "and made this journey one of a kind."