Chelsea
'One-dimensional' Jorginho would survive at Chelsea even without Sarri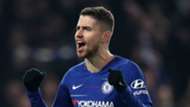 When Jorginho was at the centre of a heavyweight transfer battle last summer, few would have predicted he would become one of Chelsea's, and the Premier League's, most divisive players.
Yet to complete his first season in English football, the Brazil-born midfielder has been labelled, among other things, 'one-dimensional' and a 'fraud' since his £57 million arrival from Napoli.
Wanted by Manchester City last year, Jorginho appeared poised to sign for the Premier League champions before he eventually linked up with his former Napoli coach Maurizio Sarri at Stamford Bridge.
Under Sarri's attempts to implement his tactical masterplan through a player he has worked with for five years, Jorginho plays as a technical holding midfielder and is charged with touching the ball around 100 times a game, but he is often misunderstood in his role.
Chelsea have struggled to adopt Sarri's tactics, with their predictability making it easy for opposition teams to adapt and leaving Jorginho exposed in some games as his lack of physicality is often picked out with powerful players bypassing him in midfield.
As a figurehead for Sarri, and one of his generals, the 27-year-old has been booed at Stamford Bridge amid the uncertainty of his manager's future, with the Chelsea fanbase split on their opinion of the club's boss.
Chelsea's history of hiring, and quickly firing, coaches provides an indication that it may not be hard to see the Blues without Sarri, but many might find it difficult to see Italy international Jorginho surviving in west London without his long-term coach.
Cesc Fabregas, who left Chelsea for Monaco in January, recently described Jorginho as 'like Sarri's son' and that has also contributed to the perception he is nothing without the coach.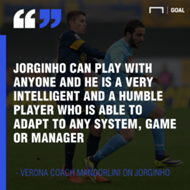 However, Napoli signed Jorginho in January 2014 when Rafa Benitez was coach following his breakthrough as an attacking midfielder in Hellas Verona's first season in Serie A for 11 years.
Seven goals and three assists in 18 starts for Verona before his move to Napoli demonstrated that, while he plays a defined role for Sarri, he could, if required, offer something else.
Given those stats, it is particularly remarkable that his long-range strike against Fulham in March was his first goal from open play since his days at Verona. However, while Sarri may have pinned Jorginho to a conservative role in his teams, his former Verona coach Andrea Mandorlini believes he is a more capable player than many care to acknowledge.
"It is always a pleasure to see Jorginho play and he always puts himself at the coach's disposal in whatever way he is asked to play," Mandorlini told Goal . "With me, he also played as a more attacking midfielder, but I believe that the role that suits him now is how Sarri wants him to play.
"I think the criticisms are unfair. Perhaps he is not a flashy player for the eyes of the people, but he is of great importance for the team due to the simplicity of the game. Jorginho can play with anyone and he is a very intelligent and a humble player who is able to adapt to any system, game or manager.
"He is a silent leader in the locker room. The first time I saw him, he was a very slender boy. It seemed he could fly away in the wind, instead because of work and sacrifice he became, firstly a man, and secondly a great player.
"He was sold to Napoli against my opinion. I still wanted him to do well so I gave him a Louis Vuitton bag as I knew he would travel more at his new club."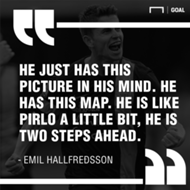 At Verona, Jorginho got on the ball much less but he created far more, as he was entrusted with a more advanced role in a less talented team. Now, Jorginho facilitates the likes of Eden Hazard to take on that attacking responsibility.
Emil Hallfredsson championed Jorginho at Verona as his side secured two successive promotions and the Iceland star reflected on his former team-mate's rapid rise.
"He wanted to be better," Hallfredsson, who took Jorginho to his homeland on holiday, told Goal . "You can see that in football, in his head he is like one or two steps in front of everybody. You can't say he is really fast or has a special shot. He just has this picture in his mind. He has this map. He is like Pirlo a little bit, he is two steps ahead.
"I had a good relationship with our coach and I kept saying to him all the time that Jorginho needs to play. The way he plays the ball, he has this great personality on the pitch. He took this great step to go to Napoli to play this really good football.
"Since he went to Napoli, he has grown so, so much as a player. It is so great to see. I can't say that I knew the whole time that he could play for Chelsea but I knew he was going to be a good player for sure and it is nice to watch him grow.
"I enjoyed it when I played against him with Napoli for the first time. I just said to him, 'don't do too much or I will f*** you up!' No, I joke."
Sarri's influence on Jorginho is often overplayed given he was sacked by Verona after three months when his current star was still in the club's academy.
Instead, the primary influence in Jorginho's life is his mother, Maria Teresa Freitas, who was a footballer and taught him how to play beach football in the state of Santa Catarina. Perhaps that is why Jorginho is often seen laughing and smiling around Chelsea's training ground, having taken such a long path to the top level of the sport.
He had previously struggled on €20 a day at the Guabiruba sports academy in Brazil, where the ill-equipped facility saw him train with 50 boys, while only having access to the same meal three times per day and where there were only cold showers available to the youth players.
Jorginho's simplicity extends off the pitch and his close friend Giuseppe Bruno, who runs the famous Bobo restaurant in Naples, explained how his personality has led him to greater things.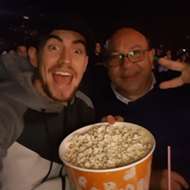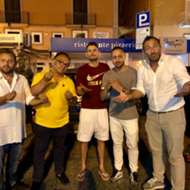 "We were a group of friends, alongside Toto Sorbillo, one of the historical pizza chefs in Naples, and Decibel Bellini, the official Napoli stadium speaker," Bruno told Goal . "We spent a lot of time together. We used to go out, to the cinema, or playing bowling, or at dinner having a pizza.
"He became a top player with Napoli. He struggled at the beginning, but he managed to fight for his place and to establish himself as one of the most important players for Napoli. When he left Napoli, he cried a lot, and we all cried with him too.
"Often we come to London to spend some time with him, by cooking or just chilling at home. He comes back to Napoli too when he has a chance.
"He is a very humble person. He knows how to be a good friend. For me it's like a young brother, we all love him and all Napoli fans have a great opinion of Jorginho. He is a great player, a great man and a great father."
Jorginho has dealt with bigger challenges than the loss of a manager, and he seems capable of surviving at Chelsea, should Sarri leave in the near future.