Barcelona
No leader?! Messi has long been Barcelona's Captain Fantastic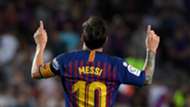 Lionel Messi's leadership skills have been questioned by some, not by anyone at Barcelona, though.
So, when it came to picking Andres Iniesta's successor as captain this summer, there was only ever one candidate, a man who is as humble as he is inspirational.
"We will miss Andres this season," Messi told Barca's fans during the week, "but I will not shy away from this responsibility."
They never feared that he would. His captaincy qualifications may have come under scrutiny again after Argentina's shambolic World Cup campaign at Russia 2018 but, for over a decade in Catalunya, Messi has been Barca's leader, so often their saviour.
The diminutive No.10 has repeatedly carried the team on his back, just as he did so during last season's double triumph and just as he did again in Saturday's Liga opener against Alaves.
Former Barcelona defender Abelardo Fernandez had claimed before the game at Camp Nou that they would make life "uncomfortable" for their hosts, and the visitors did just that during the opening 45 minutes.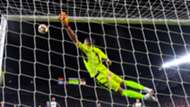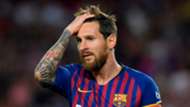 The Blaugrana toiled terribly during the first half, failing dismally to break the Basques down. They crowded Messi out at every opportunity. When that didn't work, they took him down. After one such foul, though, he struck the crossbar with a fine free-kick.
His frustration was obvious. Ernesto Valverde was concerned too and he shrewdly decided to send Philippe Coutinho on at the break in place of Nelson Semedo, with Sergio Roberto reverting to right-back.
The change immediately added more creativity to Barca's midfield but Alaves continued to offer stubborn resistance.
However, when Messi was felled again after more fancy footwork, he ingeniously decided to take the crossbar and the goalkeeper out of the equation by shooting low under the wall and into the back of net.
It was the kind of magical moment that Messi has made his trademark and he nearly repeated the trick just seconds later, when, with next-to-no-backlift, he bent the ball past Pacheco only to see it come back off the left post.
He would not be denied a second goal, though.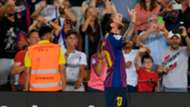 After Coutinho had made it 2-0 with a thumping effort, Messi put the finishing touch on another individual masterclass with a glorious solo strike, taking the ball on his chest under pressure from one defender, nicking it away from another and then slotting home with his customary composure.
This was a far from flawless performance from Barcelona. They offered Alaves a few sights of Marc-Andre ter Stegen's goal, while Luis Suarez's sluggishness was a concern, particularly in light of the fact that there was no like-for-like replacement on the bench.
However, Messi once again stepped up when Barca needed him most, not that the Barca fans were in the least bit surprised.
He has long been their leader. The armband just now makes it official.