Bayern München
'No dignity, no decency!' - Bayern chiefs slam German media for criticism of star players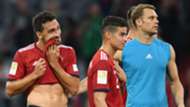 Bayern Munich executive board chairman Karl-Heinze Rummenigge has launched an astonishing attack on the German media, claiming the team's' players have been unfairly criticised.
The Bundesliga champions have come under scrutiny in recent weeks after a run of four games without a win under Niko Kovac, with the newly-appointed manager already under pressure to save his job despite backing from the club's hierarchy.
Bayern's malaise comes at the same time as a run of poor results for Germany, with defeats to Netherlands and France in the UEFA Nations League following hot on the heels of their shock World Cup group stage exit.
Joachim Low has relied on a core of Bayern players for the national team in recent years since their 2014 World Cup triumph, but recent performances for club and country have seen the likes of Manuel Neuer, Mats Hummels, Jerome Boateng and Thomas Muller face criticism.
Such criticism has angered Rummenigge, who leapt to the defence of his German players as well as experienced wingers Franck Ribery and Arjen Robben, whose places in the Bayern team have been questioned due to their advancing years.
"We got together on Monday after the Netherlands game. What we read in the press was just an account with individual players [singled out], especially Bayern players," he told reporters at a press conference.
"Human dignity is being dishonoured. We will not accept that at Bayern Munich anymore.
"I can't even start with what I've read about Manuel Neuer. Neuer is a four-time World Goalkeeper of the Year. Without exaggeration, he has created his own game.
"What I also read about Boateng and Hummels, it seems these experts are no longer aware of dignity and decency.
"This also applies to Franck Ribery and Arjen Robben. They have contributed for a decade to the fact that FC Bayern is a shining star in the world of football. I would like to remind you that both won everything. This age debate is disrespectful.
"I would like to remind you that Germany won the World Cup in 2014 in big part thanks to Bayern players. Three weeks ago, the world was fine, now we don't win four games and the world falls apart. There is simply no reason to deal with the team this way.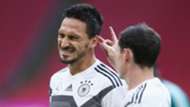 "We will not put up with this anymore. We do not seek to blame the media. If you do not play well, you deserve no praise. But we want a report of a factual nature. We will protect our players, team and coach."
Club president Uli Hoeness echoed the sentiments of Rummenigge, labelling the media in Germany a "joke" as well as offering his support for Low.
"The biggest club in Germany must now position itself regarding what's happening. I saw somewhere what's being said about Jogi Low and that he has to go. They were kissing his feet for 10 years!
"The approach of the press is a joke! We will be critical regarding our players, but we will not accept disrespectful coverage."
Bayern - who sit sixth in the Bundesliga table - return to action on Saturday against Wolfsburg as they look to close the four-point gap to early leaders Borussia Dortmund.