Neymar
'Neymar had to step out of Messi's shadow' - Barcelona exit a good thing, says Dani Alves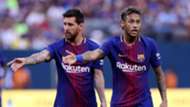 Neymar had to escape Barcelona and the shadow of Lionel Messi in order to prove himself as a global great, says Paris Saint-Germain team-mate Dani Alves.
The Brazilian forward spent four years alongside the five-time Ballon d'Or winner at Camp Nou, with that spell helping to enhance his reputation as he shone on the world's biggest stage.
It was, however, decided in the summer of 2017 that a change of scenery was required, with PSG prepared to offer that as they triggered a €222 million release clause.
Alves, as a former Barca stalwart himself, understands why Neymar opted to make such a move, with it important for him to become a superstar in his own right, rather than accompanying one in Catalunya.
The Brazil international full-back told FIFA's official website: "I think he's up there with Messi as the most influential player in world football.
"The thing is, he had to come out of his shadow a little. Playing with someone as unique as Leo is the most incredible thing that can happen to you, but there's always that doubt in your mind if it's you that really has the quality or if it's him.
"I always loved playing with him, but he's Argentinian and Ney and I are Brazilians. Sooner or later we had to come up against each other.
"I think you've got a better chance of achieving things individually when you're not so close to a player like him. It was important for Ney's own development and for Brazil for him to follow his own path."
Like Neymar, Alves completed his own switch to Parc des Princes last summer.
Having spent just one season in Italy with Serie A champions Juventus, the 34-year-old shunned interest from Manchester City to make his way to Paris.
An ambitious project in the French capital helped to secure his signature and Alves insists Neymar based his decision on the same criteria, with there no input from him during transfer talks.
"I hardly had anything to do with it, though I was involved when he signed for Barcelona," added the experienced defender.
"I gave him some advice and told him about all the good things I'd experienced at the club and in the city.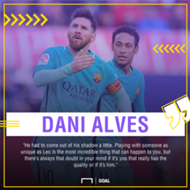 "But it wasn't like that this time. It was just a case of me getting here before him, though there was a moment when he was unsure about what to do.
"I just told him to follow his heart and be happy. That was the only advice I gave him."
Neymar insists that he is happy in France, although Goal understands PSG would be willing to sell him if they win the Champions League.
He told reporters after taking his goal tally for the season to 26 with a brace against Montpellier:  "I'm happy with my team-mates and I'm happy at PSG. I have good games and numbers and come here to make history and do my best.
"Speculation has always existed and will always exist. Since Santos and in my years in Barcelona, ​​all the transfers windows had something with my name.
"It's impossible to stay out of it. But I'm happy because it means I'm a good player, and quality players are always speculated."