NASL
NASL announces cancellation of 2018 season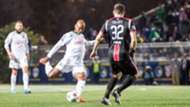 The North American Soccer League has announced that it has canceled its 2018 season.
The 2018 campaign had been in jeopardy since September 2017, when the United States Soccer Federation decided to revoke the NASL's Division II status.
Following that decision, the NASL filed an antitrust suit which was denied by the Eastern District Court of New York in November, and that decision was affirmed last Friday by the U.S. Court of Appeals.
"The focus of the antitrust suit to date has been obtaining a preliminary injunction to save the 2018 season. Unfortunately, with USSF's decision and the loss of the preliminary injunction, playing the 2018 season is no longer a possibility," NASL interim commissioner Rishi Sehgal said in a statement.
"The NASL and its clubs will look at all avenues to return to the field for the 2019 season."
The USSF has granted Division II status to the United Soccer League, which has expanded to 33 teams and has closely aligned itself with Major League Soccer by fielding several MLS reserve sides in the league. 
Four former NASL sides have joined the USL in recent months: the Tampa Bay Rowdies, Indy Eleven, North Carolina FC and Ottawa Fury.
The NASL confirmed that three of its six remaining clubs, Jacksonville Armada FC, Miami FC, and the New York Cosmos, will be fielding teams in the fourth-tier National Premier Soccer League, beginning in April.