Manchester United
Mourinho implies Casillas behind De Gea Spain criticism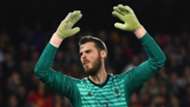 Jose Mourinho claims former Real Madrid goalkeeper Iker Casillias is the driving force behind the criticism David de Gea has received for Spain.
De Gea has been one of the best goalkeepers in the world while playing for Manchester United, but has not been able to duplicate that form as of late for Spain.
He struggled in the World Cup and has not been able to snap out of his recent slump, having saved fewer than half the shots he has faced since the start of the tournament in Russia.
De Gea again came in for criticism after Croatia scored a late winner over Spain in the Nations League last week, helping cost La Roja a chance at the semi-finals.
The goalkeeper has been defended by both his team-mates and his manager Luis Enrique, though Casillas recently said he would be willing to step back into the fold for Spain if recalled, as he has yet to announce his international retirement.
And Mourinho has seized upon that to insinuate that Casillas is the one behind the criticism of the current Manchester United and Spain No.1.
"But why criticism in Spain? Do you know?" Mourinho said. "I know. Because there is somebody very powerful that is thinking about jumping again, but I think it's very difficult to jump when you have the best goalkeeper in the world in front of you."
Mourinho downplayed the influence such a campaign might have on Luis Enrique, adding: "No. Not on the manager. The manager I know him very well, the manager. I am very good friends."
The Manchester United manager failed to reveal the player by name, but all but outed Casillas as his suspect when he revealed he had won a title with him in the past.
"Yeah, I like him," Mourinho said when asked if the player had played for him and if the manager liked him. "I was champion with him."
Casillas and Mourinho were together at Real Madrid, winning the La Liga title in 2012. However, they had a public falling out, with Mourinho benching Casillas for Diego Lopez. Eventually Casillas was sold to Porto.
Earlier in the day, Record had Mourinho's response to comments made by Casillas last week about their falling out at Madrid, in which the goalkeeper claimed he should have grabbed the bull by the horns in his criticism of the manager.
Mourinho claimed it was the type of interview given by someone at the "end of their career" and claimed, despite his protests otherwise, Casillas had challenged his authority while with Madrid.