Manchester United
Mourinho: I don't understand story of attacking football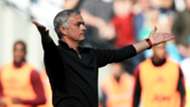 Jose Mourinho says it is vital that Manchester United focus on defending as the club looks to return to form following a thrilling win over Newcastle.
The Red Devils came back from 2-0 down to secure a 3-2 victory in their last match, one that reports indicated could have been Mourniho's last at the club.
For Mourinho, the attacking display was impressive, but, for the club to truly steady the ship, defence will be even more important to the Portuguese manager.
"That story of the attacking football - I still don't understand that story," Mourinho said ahead of Manchester United's clash with Chelsea.
"Because for me you can only play attacking football when you have the ball. You need the ball. When the opposition has the ball you have to defend.
"I want my team, when the opponent has the ball, I want the ball," he added, "and you can only recover the ball if your opponent loses or if you recover or if you provoke a mistake in your opponent, for all that you need to defend.
"When you have the ball you can play a different way and normally adapted to the qualities of your players. That is what I want.
"We try [to play that way]. The key is for the players to be able to do it."
Mourinho is set to return to Stamford Bridge this weekend, although the former Chelsea manager insists the trip to London will be "just another game".
The current Chelsea boss, Maurizio Sarri, recently came to Mourinho's defense as criticism continues, calling his counterpart his better while complimenting "The Special One". 
Following the match against Chelsea, Mourinho and Manchester United host Juventus in the club's return to Champions League play.