Transfers
Motale questions Orlando Pirates' sudden interest in Solinas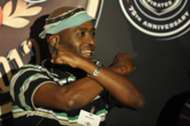 Legendary Orlando Pirates defender Edward Motale tells Goal appointing former Free State Stars coach Giovanni Solinas as their new mentor would be a big mistake.
The Italian-born coach has been linked with a posible move to the Sea Robbers, but Motale is not conviced that he's the right man for the job.
"What has he done at Free State Stars to be at Pirates? I don't think it would be a good move. I don't know what criteria they are using to consider him," Motale told Goal.
Solinas rose to prominence midway through last season when he guided Stars to a respectable finish in the league and a semi-final berth in the Nedbank Cup.
He then left the club at the end of last season before returning a few games into the current term to replace Frenchman Denis Lavagne.
After struggling to get Ea Lla Koto blossoming this season, Stars terminated Solinas' contract, and he's now believed to be in the running for the Bucs job
Motale doesn't think he fits the profile because of his track-record at Stars, although the 48-year-old had a successful spell with Algerian side ES Setif in the past.
"Firstly, what has he done for Free State Stars to go to Pirates that's my first question? Second question, you said he was in the semi-finals (of a cup competition). There's a difference between a cup competition and a league competition," Motale said.
"So we cannot judge somebody based on his success in a particular cup competition, but in a league competition you play everybody that's where we can judge your capabilities as a coach."
"I don't think he is a good candidate for Pirates. For me, it's like taking a picture with a different frame. (It's like you are) Just moving from Free State Stars with the same picture, we are just putting another frame," Motale concluded.