Chelsea
Morata: I made excuses for Chelsea struggles last season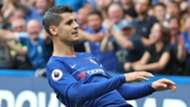 Chelsea striker Alvaro Morata says he fell back too heavily on excuses during a "bad period" in his life last season, but is now "very happy" with his situation.
After making a £55 million ($72m) move from Real Madrid to Stamford Bridge, Morata started off strongly but struggled badly in the second half of last season.
Injury blunted his effectiveness and with pressure mounting, the striker could not get his head right.
The result, he says, was a heavy dose of excuses, right down to the field being too wet for him to perform – an attitude he knows now was driven by his unhappiness.
"In football, physical condition is very important, but the head is the most important thing," Morata said after his brace against Crystal Palace on Sunday. "If you don't have the head, if the mentality is not good, then you are in trouble.
"I had a period where everything – if it is raining, I'm angry because it's raining. If I miss, it's because the pitch is too wet. It was only excuses. It is not good.
"Everyone can have a bad period in their life, but we are famous, we have a lot of things. Sometimes people think we are not human, with no feelings, with no problems.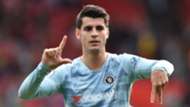 "The important thing is to find the right balance. Now, I have, and I am very happy. I'm better. In the last month of last season, I was down, down, down, down. I cannot be more down. When you touch the limit, the only thing you can do is to come back."
Morata missed a late chance to complete his hat-trick against Palace, and believes his head again got in the way of that happening, over-thinking the chance.
That's something he wants to remedy, as he knows Chelsea needs his production if they want to compete for honors this season.
"In the last 10 minutes, I only have in my head, 'I want to bring the ball home', and I think that's why I missed," Morata added. "If I don't think, probably I score.
"At the end of the season, if we want to fight for the Premier League, I need to score many goals, Eden [Hazard] has to score many goals, the other strikers, Willian, Pedro, [Ross] Barkley.
"There is Hazard, there is [Sadio] Mane, [Roberto] Firmino, [Sergio] Aguero, [Harry] Kane. This is the league with the best strikers in the world. I don't need to think about scoring more goals than other players."