Transfers
Monterrey accepts Mohamed resignation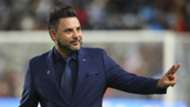 Antonio Mohamed's resignation has been accepted by the Monterrey board, the club announced Monday.
"We're making aware that, by mutual agreement, Antonio Mohamed and his coaching staff have today finished their responsibility leading our squad," a club news release read.
"After three years managing the first team,'Tony' is ending a stage during which he won a Copa championship, had two runner-up finishes in league play and currently is the leader of the coefficient table" it continued, referring to the league's table over six tournaments used to determine relegation.
The Argentine won Liga MX titles with Club America and Tijuana but couldn't get Rayados over the hump. They were knocked out of the playoffs Saturday in the quarter-final stage with a 3-2 aggregate defeat to Tijuana. After coming away with a draw in the first leg against Xolos, Monterrey was unable to press their advantage at home, losing 2-1 in the second leg.
Mohamed also oversaw a pair of defeats in the Liga MX final, in the 2017 Apertura to crosstown rival Tigres and in the 2016 Clausura to Pachuca. 
While it wasn't all disappointment for the 48-year-old, Rayados won the Copa MX title in the 2017 Apertura, even that title was a tiny band-aid on the wound of the Liga MX final defeat to Tigres. After another strong regular season this year, finishing tied for the second-most points and entering the playoffs as the No. 3 seed because of an inferior goal difference, playoff elimination at the first round was too much to get past.
Mohamed arrived in Monterrey in the 2015 Clausura. After missing the playoffs in his first full season, Mohamed led the team to a club record 37 points in the regular season but lost to Pachuca 2-1 on aggregate. After narrowly missing the playoffs the next tournament, Mohamed's side was eliminated in the quarterfinals by Tigres in the 2017 Clausura, then again ran off a tremendous regular season that ended in playoff disappointment with last tournament's finals loss.
Victor Vucetich, who managed Rayados from 2009-2013 has been reported as the most likely candidate to fill the position. The 62-year-old most recently managed Queretaro.