Transfers
Modric expects Ronaldo to stay at Real Madrid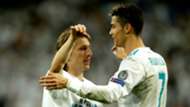 Luka Modric believes Cristiano Ronaldo will stay at Real Madrid despite links with Juventus.
As revealed by Goal , the five-time Ballon d'Or winner has stunned Madrid by agreeing to a move to Juve and is set to sign a four-year contract worth €30 million (£26.5m/$35m) per season .
The Serie A giants still have to negotiate a fee with Madrid and are expected to have to pay upwards of €100m (£88m/$117m), but could go as high as €120m (£106m/$140.5m)..
Ronaldo's Madrid team-mate Modric, however, does not believe that a transfer will materialise.
"I don't think he's going to leave, and I'd like him to stay because he's the best player in the world," the 32-year-old said. 
"I think he's going to stay; that's my opinion. It would be great if he did, because I can't imagine him at any other club.
"Let's see what happens."
Modric was speaking after helping Croatia to the World Cup semi-finals , where they will meet England after defeating hosts Russia 4-3 on penalties after a dramatic 2-2 draw in Sochi.
Ronaldo, meanwhile, exited the competition with Portugal at the last-16 phase, beaten 2-1 by Uruguay.
Talk of his future has since dominated the news agenda, with many pundits disbelieving that he will depart the Spanish capital for Italy.
The player's agent Jorge Mendes, however, has suggested that Ronaldo may look for a "new challenge" . 
Juve, meanwhile, were compelled to publish a statement after their stock price rocketed amid news of the superstar's potential arrival .
"After the request from CONSOB related to the news published recently on media outlets, Juventus Football Club S.p.A is keen to remind that during the transfer season the club is evaluating several opportunities and will publish adequate information as prescribed by the law," the Italian champions stated.
Former Bianconeri CEO Luciano Moggi went as far as claiming that Ronaldo has "already signed" and is merely waiting on the formalities of the deal to be completed.