Transfers
Mignolet reveals when he plans to make Liverpool future call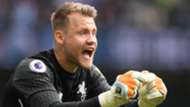 Simon Mignolet is planning to make a decision on his Liverpool future after representing Belgium at the 2018 World Cup.
The Reds goalkeeper has slipped out of favour at Anfield, with Jurgen Klopp having turned to Loris Karius as his last line of defence.
This is not the first time that Mignolet has fallen down the pecking order, but his chances of forcing his way back in on this occasion are looking increasingly remote – especially with Liverpool being linked with further reinforcements over the summer.
The 30-year-old has already insisted that he will not be lodging a transfer request, but he is readying himself to make an important call at a career crossroads.
Mignolet, who remains contracted to Liverpool until 2021, told La Derniere Heure: "I don't know what the future holds for me.
"I have three years left on my contract at Liverpool.
"Of course I want to play. The coach knows that, and I have talked about it with him. I will think about my future after the World Cup.
"I keep focused, just in case. An injury, a suspension, anything can happen and change the course of a season. I stay professional in order to be ready."
On seeing Karius edge ahead of him at Anfield, Mignolet added: "I was disappointed. In football, it's rare to get a clear answer, but sometimes you have to let things go. I know that becoming number one again won't be easy.
"I mustn't let my head drop. I have always worked and I continue to do so.
"The boys in the squad even tell me to calm things down in terms of the amount of work I do, but it's in my nature."
Mignolet has been with Liverpool since 2013, taking in 195 appearances for the club across five seasons.