Mexico
Mexico U-20s bounced, but not without hope for future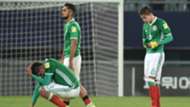 Despite mounting a number of chances, Mexico's Under-20 team couldn't find the finishing touch against an England side that ended with 10 men, falling to the Three Lions in the quarterfinals of the U-20 World Cup.
U.S. U-20s eliminated by relentless Venezuela
That was Mexico's tournament in a nutshell. Despite having plenty of talented players, players who were able to find opportunities, the team wasn't ever quite able to kick into gear, sputtering into the quarterfinals and leaving the tournament having scored in just two of five matches. Those goals came against island minnow Vanuatu, who put a scare into El Tri by drawing level with them before Edson Alvarez's stoppage-time winner, and on a late goal against Senegal from Ronaldo Cisneros.
While the tournament may have ended with disappointment, the U-20s on display in South Korea still give Mexico fans plenty of hope for the future.
It's easy to get carried away with youth national teams. So many players look good and can flash a bit of skill that gets fans hoping to believe in a brighter future for the senior team. But take a look at Mexico's best U-20 World Cup finish in the last 40 years, the third-place spot in 2011. Of the 21 players on that squad, five have earned a senior cap. Two, Nestor Araujo and Diego Reyes, could be construed as regulars with the senior team while Alan Pulido and Erick "Cubo" Torres may make this summer's Gold Cup team.
Even the 2005 U-17 world champions produced just three players who are still in the national team picture in Carlos Vela, Giovani dos Santos and Hector Moreno. It may be too soon to judge the 2011 U-17 champions, though there's even less of an output there with Chivas forward Carlos Fierro perhaps the biggest stand-out name from that team still finding success today.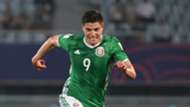 So, if three players from this Mexico team turn out to be senior team stalwarts, the tournament would have to be viewed long-term as a success. It seems like that won't be too hard to do for this generation. Alvarez already has earned a senior cap and has played in the Club World Cup. Those are impressive achievements but what's more important is his continued growth as he alternates between both center back and defensive midfielder. New club coach Miguel Herrera will need to continue to give the 19-year-old minutes and should help with his development.
Goalkeeper Abraham Romero, born in California but now in the Pachuca system, may not slot in immediately to replace Tuzos' 44-year-old goalkeeper Oscar "Conejo" Perez but looks to be on the way to becoming a regular pro sooner rather than later. Scouts on both sides of the border are convinced, as were most who watched Romero keep Germany scoreless in Mexico's second group match.
And despite the team suffering from a lack of goals in the tournament overall, Santos Laguna attacking pair Cisneros and Uriel Antuna also look like ones for the future — not only of the Guerreros but for the national team. Cisneros was the one player who seemed to be able to finish in the tournament while Antuna's ability to make things happen on the midfield led to several opportunities, most of which the team failed to convert. Though Santos coach Chapo de la Torre hasn't had the most attacking style, he has shown a willingness to give his talented young players opportunities in the first team, so like Alvarez and Romero the Santos duo could continue to grow at the club level.
Exiting the tournament Monday is disappointing for a Mexico team that was looking to make more noise, but ultimately this team could be looked back upon with success if the stand-out players — or someone like Claudio Zamudio who had a difficult tournament but still has loads of talent to harness — are able to come through and turn into regular players for the senior edition of El Tri.