United States U20
Mendez shines as U.S. Under-20s continue Concacaf domination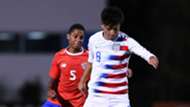 As the referee's whistle blew a few feet from him to signal the end of Friday's Concacaf Under-20 qualifier between the United States and Costa Rica, Alex Mendez dropped to his knees in what was part prayer and part double fist pump.
The young midfielder had good reason to celebrate, having turned in his latest star performance to lead the U.S. Under-20s to a comfortable 4-0 rout of a Costa Rica side that looked overmatched for the better part of 90 minutes. The final score wasn't as lopsided as the handful of blowouts the United States recorded in the first group stage of the Concacaf U-20 Championship, but in many ways it was the American team's most impressive performance of the tournament.
Mendez set the tone early, with his left-footed blast from 25 yards out stunning the Costa Ricans, who never did recover.
"It was important because we let them know from the start that we were going to be all over them," Mendez told Goal. "I think we sent out a good message and from the first half it was dominance from us and we kept it going and that's why we kept scoring."
USMNT U-20 standout Alex Mendez discusses the team's big Concacaf qualifying win vs. Costa Rica on Friday, which secured the #USMNT U-20 team's place at the 2019 Under-20 World Cup. #RememberTheName pic.twitter.com/zOqDBlJIJM

— Ives Galarcep (@SoccerByIves) November 17, 2018
Mendez was the U.S. team's best player on a night when several of his teammates also turned in strong performances. The LA Galaxy academy product, who signed with Bundesliga side Freiburg in September when he turned 18, showed why he's fast becoming one of the most highly rated prospects in the U.S. youth national team setup.
"Alex is amazing. Nothing surprised me from Alex today,' U.S. coach Tab Ramos told Goal. "To most people out there who haven't seen Alex Mendez play yet that's a surprising goal, but we see this in practice every day."
Friday's match was the first for the U.S. in the second round of Concacaf's lengthy qualifying tournament which featured a five-match first round, and now a two-match second round where the top two teams in the group qualify for the World Cup.
Costa Rica was supposed to offer a tougher test, but the Ticos wound up being overwhelmed like the USA's opponents earlier in the tournament.
"I think we approached it just as we did the previous games, with the same mentality of wanting to get forward and wanting to punch first," U.S. goalkeeper Brady Scott told Goal. "I felt like we did that today. A 4-0 result definitely shows that."
Though the result was never really in doubt, the U.S. team still took the time to celebrate the accomplishment of qualifying for another U-20 World Cup, the fourth straight qualification with Ramos at the helm.
This one felt different.
"it's sort of a little bit of a gift to all the fans," Ramos said. "We've suffered a lot over the last year and I think this gives a little hope going into the future. I think it was really important for the U-20s this time to qualify more than any other time."
Post-game recap of the #USMNT Under-20 team's 4-0 win vs. Costa Rica, which booked the USA a place in the 2019 World Cup, and brought the Americans a step closer to a return to the Concacaf Championship final. pic.twitter.com/Kc0LJh5OlN

— Ives Galarcep (@SoccerByIves) November 17, 2018
With a World Cup place booked, the U.S. now turns its attentions to securing a place in Wednesday's Concacaf U-20 Championship final. The Americans will be facing the same Honduras team they defeated in penalty kicks in the 2017 Concacaf final, and a Honduras they know well after playing them twice 
"It's going to be a good game because we have history with them," Mendez told Goal. "We played them in Honduras and unluckily we didn't get the result we wanted in the first game, but the second game we came out and we won. This game they're not just going to roll over for us, so it'll be a good game."
The Catrachos are a more dangerous opponent than Costa Rica, boasting dynamic attacking threats that should challenge the U.S. defense in a way the Ticos were unable to.
"Honduras is different than Costa Rica. Honduras likes to play a little bit less with the ball," Ramos told Goal. "They'll probably play a little bit more long ball than Costa Rica did, but we have two days to get ready for that and we'll be ready."