UEFA Champions League
'Marco Verratti is Xavi's natural successor at Barcelona'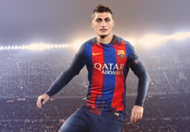 ---
EXCLUSIVE
---
Former Nantes and Real Sociedad coach Raynald Denoueix believes that Marco Verratti would be a natural heir to Xavi at the heart of the Barcelona midfield. 
The Italy international, 24, has become a key part of the Paris Saint-Germain machine since moving from Pescara in 2012. 
Verratti has won Ligue 1 in each of his four seasons at Parc des Princes, cementing his burgeoning reputation as one of the world's finest midfielders. 
Football Manager predicts Champions League winner
And while he will be giving his all to defeat Barcelona in Tuesday's Champions League last 16 bout, Denoueix is of the opinion that Verratti would be a fantastic signing for the Catalans. 
"Barcelona's midfield has not been the same because there are players of such quality that they can not be replaced. Like Xavi, he's irreplaceable," the French coach explained to Goal . 
"Or maybe, more precisely, the substitute of Xavi is on the other side, it's Verratti. He has really the same style.
"In the Guardiola era, there was a very strong midfield. Currently, on certain phases without ball, it is more a 4-4-2 than a 4-3-3 because Messi plays inside.
"With Guardiola, the control was even more pronounced because they had Xavi, [Andres] Iniesta, [Sergio] Busquets plus [Leo] Messi. The difference is there. Today, the game passes more through Messi at the start of the action."
Denoueix added that if PSG were to upset the favourites they would have to pressure across the pitch, stopping the likes of Messi, Neymar and Luis Suarez from dominating. 
"I think that PSG style is still to have the ball. We were talking about Verratti but there are others. You can't go against the characteristics of the players. When we have Verratti in the team, it's like when we have Iniesta or Busquets, the logic is to go through the midfield," he said. 
Tuchel: Pep's Bayern were no fun
"With very high pressing, Barca are in trouble. The match against Atletico was the illustration of that because in the second half, Simeone changed his organization by going higher, and Barca suffered. Paris have the capacity to do that.
"Messi, Suarez & Neymar are really very, very strong. This is undeniable. It's clear that the three are in the five, six best players in the world, and - above all - they want to play each other. We can't say: 'We'll take care of Messi, point.' The midfield trio they had before is now an attack trio."