Transfers
Man Utd target Hirst will be allowed to dictate own future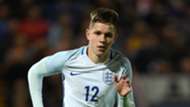 Manchester United are being heavily linked with a move for teenage frontman George Hirst, and Sheffield Wednesday will let him make any decision on his future.
The 19-year-old striker, who is the son of Owls legend David, has been attracting plenty of Premier League interest – with Leicester, Everton and Newcastle also said to be keen.
It is, however, United who have moved to the front of the queue for his signature after being impressed by the progress made by Hirst at Wednesday and with the England U20 side.
A summer approach from Old Trafford is now being mooted, with the youngster set to be granted the freedom to dictate where he wants to be playing in 2018-19.
Wednesday boss Jos Luhukay told reporters at a press conference ahead of a midweek outing for his side against Queens Park Rangers: "It is a decision which George has to make himself.
"I think it's very difficult if a club like Manchester United have interest in him to say no.
"George must decide how he sees his future. I respect that.
"But it is George's decision at the end. Whether it is a good decision or not, I can't answer that.
"The future for a young player is not so easy but it is important when you make a decision you stick by that 100 per cent.
"If George stays here, I will be unbelievably happy. But I must also accept and respect when George makes a decision for the future elsewhere."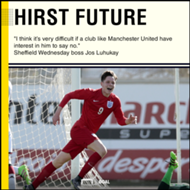 There is no guarantee that Hirst will be moving on, with fresh terms being mooted at Hillsborough, but Luhukay acknowledges that he has a big call to make.
The Dutchman added: "George is a fantastic player but I can't say where his future is. How far he goes in the future, I can't say.
"It is why he must look first at what is the next step for him. Is it the Championship with us or is it maybe the Premier League? You then must have a look at how his career is going.
"You must keep an eye on young players and then see what is the next step and how is the situation after one or two years and how is the direction. It's very difficult to say now.
"George is only a young player in the Under-18s so you never know how it will go in the future. I hope for him it will go in a good way."