Manchester City
Man City owners desperate for long-term Guardiola stay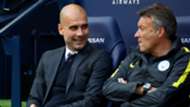 Pep Guardiola says the Manchester City owners want him to stay at the club for a "long, long, long, long time".
Guardiola signed a three-year deal at the Etihad Stadium last summer but has always suggested that he would be open to staying for longer.
Man City owners 'so happy' with progress
Guardiola and the City team trained in Abu Dhabi last week and having spoken with Sheikh Mansour, who bought City in 2008 but has not visited Manchester since 2010, the Catalan came away convinced that he can stay for as long as he wants.
"We spoke about private lives, families, the club," Guardiola said on Tuesday. "[He asked] what's my impression after six months, half a year here. They are able to help us, not just me but the people at the club, the staff. They were so kind.
"He knows and I know that it all depends on the results. He would like that I stay here for a long, long, long, long time. But of course it depends on the results. If not they would say what happened, what can we do. What we need to improve. That's the process - to finish the process they are going to help us."
Manuel Pellegrini was charged with winning five trophies in five seasons when he took over at City in 2013, although he was shown the door in favour of Guardiola last summer, after three seasons in the job.
Man City keeping tabs on Lens starlet
Guardiola, however, insists that he has not been given any targets in terms of silverware.
He added: "We didn't speak about that. They will be happy if we win. I know we have to win but I've handled that in the past and I will in the present."