Transfers
Man City not currently interested in Dortmund striker Aubameyang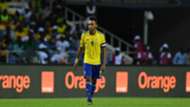 Manchester City are not currently exploring a deal for Borussia Dortmund striker Pierre-Emerick Aubameyang, Goal understands.
Aubameyang was a target for City last summer, but like Juventus' Leonardo Bonucci, Athletic's Aymeric Laporte and Arsenal's Hector Bellerin, he is far from the top of Pep Guardiola's wishlist this time around.
Alves may live to regret City quip
City identified their top targets several months ago, and after signing Bernardo Silva from Monaco and Ederson from Benfica they are now working on deals for four full-backs.
It is understood Dani Alves is currently the most likely to become the Blues' third signing of the summer, though director of football Txiki Begiristain is still trying to sign Tottenham right-back Kyle Walker and left-backs Benjamin Mendy, of Monaco, and Ryan Bertrand, of Southampton, as quickly as possible.
Arsenal's Alexis Sanchez is Guardiola's top target this summer but City are aware their pursuit of the Chilean is likely to drag on for many more weeks, even if they are confident that they will eventually get their man.
For that to happen they would need Alexis to make it clear to his current employers that he will not sign for any other club nor sign a new contract, which would force the Gunners into selling him to City this summer or losing him on a free in a year's time.
City were interested in Monaco's Kylian Mbappe last summer and are once again very keen to land the teenager this time around. Should the Ligue 1 champions decide to sell the 18-year-old City will go all out to sign him, and would have no problem signing both Mbappe and Alexis ahead of next season.
Neither deal is likely to be resolved quickly, however, and indeed it is also a distinct possibility that Real Madrid would trump City when it comes to Mbappe.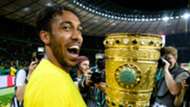 In any case, Aubamayeng is currently far from a top target and it is believed that any move for the Gabon international would come much later in the summer and only if City are left disappointed in their hunt for Alexis and Mbappe - if an approach is to come at all.
Aubameyang had appeared to be close to moving to Paris Saint-Germain, but the move fell apart last week.
Sources close to the player have told Goal that the striker would prefer to move to Spain or England this summer, as he has already played in France, Italy and Germany and wants to compete in Europe's top five leagues by the end of his career.
He has previously spoken of his dream of playing for Real Madrid, though the Spanish club are of course also interested in Mbappe, and their entire transfer plans are now up in the air while they seek a resolution to the Cristiano Ronaldo situation.