Transfers
Malcom rubbishes transfer rumours as he lives the dream at Barcelona
Fernando H. Ahuvia & Tauan Ambrosio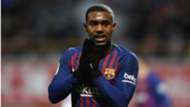 Barcelona forward Malcom, fresh from netting his first goal for the club, has rubbished reports suggesting that he could soon be heading out of Camp Nou.
The Brazilian found himself at the centre of a transfer storm over the summer as he prepared to leave Ligue 1 outfit Bordeaux.
A switch to Roma appeared to be on the cards, only for Barca to hijack that deal and complete a €41 million (£37m/$48m) agreement of their own.
They have had to be patient with the 21-year-old, with limited game time having sparked speculation regarding another switch just a matter of months after arriving in Catalunya.
Premier League sides such as Arsenal and Chelsea have been credited with holding an interest in Malcom, but he insists there is no substance to the exit talk.
"That is fake information and it will not break my confidence," Malcom told Goal.
"Scoring a goal for Barcelona right after that [the rumours] was important for my confidence and I'm sure I can do much more to help the club."
Malcom's comments reiterate a message he recently posted on Instagram, in which he made it clear that he is not looking for a way out of Barca.
He said: "About news that came out here in Spain, I want to clarify this: I came to Barcelona with many objectives, and those who know me know that I am a very determined person.
"I'm very happy with my development with every passing day. My objective is to make my dreams come true."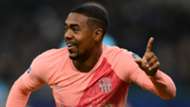 Malcom insists that he is still living the dream at a La Liga heavyweight, with his boyhood ambitions being fulfilled after making his way from the academy ranks at Corinthians to Camp Nou.
He added to Goal: "All that I have done has been worth it.
"I had a dream of being a professional footballer, and then my dream was to be a champion with my first club and after that I dreamed of playing in Europe.
"Everything I have dreamed of I have achieveed with lot of hard work.
"And today, being at Barcelona, with great players by my side, it's very good. It is worth every sacrifice that myself and my family have made."
Malcom's first goal for Barca, in his fourth appearance, came during a 1-1 Champions League draw away at Inter.