Manchester United
Lukaku defends 'winner' Mourinho from Man Utd critics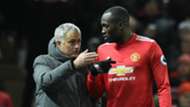 Jose Mourinho "wants to win", says Romelu Lukaku, with the Manchester United striker baffled by those critics who continue to question the Portuguese and his methods.
The man in charge at Old Trafford boasts a proven track record, with major silverware secured wherever he has been.
Mourinho was, however, to end the 2017-18 empty-handed as he faced accusations of adopting a defensive mindset.
Lukaku insists that is not the case, with everyone at United determined to deliver success, with the Belgian frontman convinced that the Red Devils have the right man at the helm.
He told Business Insider: "People need to understand that we play this game not to lose it. We play this game to win.
"So when you lose, you get angry, you get upset. So for him ... when he's upset, he's a type of person that you can really see that he's mad or angry. So I think this is normal.
"This should be embraced because he's a manager, he's a coach that wants to win. And if you can't deal with that, well, you know, don't ask him questions because he shouldn't hide this personality to give, like, a good public image."
Lukaku has also defended his relationship with a demanding boss.
Mourinho appeared to question the 25-year-old's desire after being forced to name his 27-goal top marksman on the bench for an FA Cup final clash with Chelsea.
Both parties have since played down those comments, with Lukaku adamant that he is enjoying life under the former Chelsea and Real Madrid boss.
A man preparing to cut short his post-World Cup break in order to rejoin the Red Devils fold ahead of the new Premier League season added: "We have a good relationship.
"I think it's nice to play for him.
"We make jokes. He sends me good advice, or funny videos, some stuff like that. So he's really a family guy. That's how I know him."
United have a final pre-season friendly to take in with Bayern Munich on Sunday before opening the 2018-19 Premier League campaign at home to Leicester on August 10.