Transfers
Liverpool's 15 best signings of all time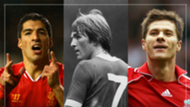 Jurgen Klopp's summer recruitment drive is centred on elite targets to advance his lofty ambitions at Liverpool.
The Merseysiders have a long and proud history of doing brilliant deals in the transfer market, especially during their silverware-lined past, and the German is determined to make similarly weighty acquisitions before the start of the 2017-18 season.
From Phil Neal to Philippe Coutinho, Goal selects 15 of the best buys the Reds have ever made..
---
ALAN HANSEN | From Partick Thistle | £100k | 1977
---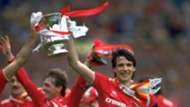 Intelligent in possession and measured out of it, the centre-back joined the Reds on May 5, 1977 before making 620 appearances for the club across all competitions.
Hansen was a key element in ensuring the continuation of Liverpool's dominance, both domestically and on the continent, helping them to three European Cup triumphs and eight league titles among a host of other honours.
'Van Dijk wants to play for Klopp'
Bob Paisley, who recruited the Scotsman, summed up his attributes perfectly. "Alan Hansen is the defender with the pedigree of an international striker," the manager said.
"He is quite simply the most skilful centre-half I have ever seen in the British game. He is a joy to watch.
"Alan has always been an excellent footballer, a beautifully balanced player who carries the ball with control and grace."
---
BILLY LIDDELL | From Lochgelly Violet | £200 | 1938
---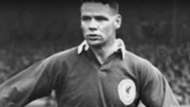 The winger defined the pre-Shankly era, scoring 215 league goals in 492 games to earn the apt nickname 'Liddellpool,' but he might never have signed if it had not been for Matt Busby.
The Reds captain and later legendary Manchester United manager tipped off Liverpool boss George Kay about the teenage talent. 
Liddell had rejected an invitation from Man City and Busby believed he'd be quite the coup for the Anfield side. The Scottish Hall of Famer first arrived at the club in July 1938 before signing a professional contract in April the following year.
"Opponents were frightened to death of the gentlest man on earth," Paisley recounted on Liddell. "Bill was so strong it was unbelievable. You couldn't shake him off the ball.
"It didn't matter where he was playing, though I suppose his best position was outside-left. He could go round you, or past you, or even straight through you sometimes!" 
---
EMLYN HUGHES | From Blackpool | £65k | 1967
---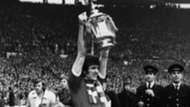 Bill Shankly immediately offered Blackpool £25,000 for the midfielder having watched one of his first games for the Seasiders. They were not willing sellers but promised Liverpool first right of refusal if that stance changed.
The iconic manager did not cease his pursuit, though, and rang Hughes every Sunday morning to let him know he'd soon be calling Anfield home.
The transfer was eventually completed on 27 February, 1967, with the Reds paying what was then a club-record fee for 'Crazy Horse'.
Hughes was the captain when Liverpool conquered Europe under Paisley, turning out at centre-half and full-back.
"He absolutely adored playing football. He would just give 110 per cent," explained former team-mate Terry McDermott. 
"They called him 'Crazy Horse' and that's exactly what he was. He never stopped, he was up and down the pitch, cajoling everyone. He'll not be forgotten."
Hughes' 665 appearances brought four league titles, two European Cups, as well as being voted the FWA Footballer of the Year in 1977 among other accolades.
---
FERNANDO TORRES | From Atletico Madrid | £20.2m | 2007
---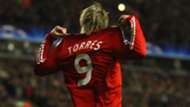 The toxicity of his exit to Chelsea on deadline day in January 2011 cannot erase the euphoria - unmatched over any Liverpool signing in recent history - that was felt when the Spaniard's switch from Atletico Madrid to Anfield was confirmed in the summer of 2007. 
United had wanted him, but it was Rafael Benitez that convinced one of Europe's hottest prospects to leave his boyhood club.
"He is a good player. We would not have been interested in him if he wasn't," former Red Devils boss Alex Ferguson admitted. 
"For years we tried to do a deal with him but we never quite managed it, either because Atletico did not want to sell or the player felt he was too young."
Their defeat was Liverpool's victory. Torres had everything - pace, intelligence, improvisation, sheer power - and he used it all as he scored 81 often epic goals in 142 games for the club.
He had few rivals as the best centre-forward in the world during his spell on Merseyside and Steven Gerrard wasn't the only one "heartbroken" when 'El Nino' departed for Stamford Bridge.
---
GRAEME SOUNESS | From Middlesbrough | £352k | 1978
---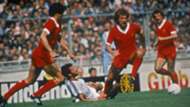 The fee Liverpool paid for the complete midfielder was £352,000, which was a transfer record between English clubs at the time - yet it was still a bargain.
Souness was a player with a fine touch, incredible vision and an abundance of ability. He was also a no-nonsense, tough-tackling enforcer with his mix of finesse and fire central to securing five league championships and three European Cups.
Dani Alves in dig at Guardiola
"When you're walking behind Souness and he's walking towards the enemy, 30-40,000 of them, with a big smile on his face... he actually wants to climb the face and stand even closer to them there's only one thing that happens," detailed his former team-mate Steve Nicol.
"Your chest goes out and you just want to get in there as well. When you're playing for a captain like that and playing alongside a guy who was not just a great captain but a great player... What team do I want to play for? I think I'll take that one."
Souness' reputation at Liverpool is tainted by his subsequent, unsuccessful spell as manager but he was a force of nature who undoubtedly drove Liverpool on during his 359 appearances, which produced 55 goals.
---
IAN RUSH | From Chester | £300k | 1980
---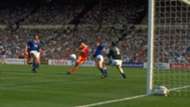 All you need is Rush! The greatest goalscorer in Liverpool's history commanded a record fee for a teenager, but Paisley was confident the club were spending their money shrewdly.
That was perhaps most evident in Merseyside derbies, in which the Welshman scored a rivalry-high 25 times against Everton across all competitions.
He was quick with his feet and in mind, typically ghosting between markers to become feared in England and renowned on the continent.
Rush's 346 goals - of every variety - came in 660 games for Liverpool. He was expert in timing his runs to meet through-balls, was a banker in one-on-ones, and possessed every type of strike in his armoury.
The forward, who won five league championships and a European Cup among other honours, also put in a defensive shift.
"He set an example to all his colleagues, not only in his scoring, but also in his willingness to tackle back," former Reds manager Joe Fagan explained.
"He wins the ball so often it provides a psychological boost for defenders."
---
JOHN BARNES | From Watford | £900k | 1987
---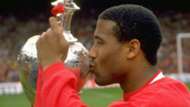 On June 9, 1987, Liverpool ended what was then referred to as "one of the most protracted transfer sagas of the season" with a sublime bit of business. Tottenham and Arsenal had both wanted John Barnes, but Liverpool were the "only club in England" that Watford's dazzling winger wanted to join. 
Anfield, thus, housed a genius at work - a player who so wonderfully married grace and dominance, while back-heeling racial barriers.
His manipulation of the ball was barely believable at times, as was his balance as defenders bounced off him during his powerful, gliding bursts.
RUMOURS: Man Utd pick Nainggolan
George Best referenced Barnes' "stunning talent," the great Tom Finney claimed players of the England international's ilk "come along just once in a lifetime" and Kenny Dalglish declared he "did what we expected him to do. He made a goal, scored one, and entertained. You remember that."
The two-time FWA Footballer of the Year, who later converted to a deep-lying midfielder due to an Achilles injury, lifted two league championships as well as an FA Cup and League Cup.
Barnes scored 108 times in 407 appearances for Liverpool and regardless of where he was stationed, he was the very definition of poetry in motion.
---
KENNY DALGLISH | From Celtic | £440k | 1977
---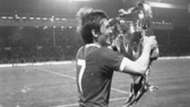 The King. The reference point. The example. United had offered more money for a player that had been the heartbeat of Celtic's four league triumphs, as many Scottish Cup wins and a League Cup victory, but Dalglish was determined to make the best team in Europe even better.
Liverpool had three bids rejected before a record sum between two British clubs was agreed and the transfer was confirmed on August 10, 1977.
Paisley recruited the forward to replace the departing Kevin Keegan, and he comfortably eclipsed the former wearer of the famed No.7 shirt. 
Dalglish seemed to play football in the future, knowing exactly where his team-mates would be and picking the perfect ball to play.
Three European Cups, six championships, four League Cups, plus an FA Cup were picked up as a player, before he added six more honours as manager of the club. 
Liverpool did not just buy a maestro in the summer of 1977, they signed a man who would maintain and further their foundations of success.
Dalglish represented the Reds with distinction on and off the pitch, and continues to be significant voice at the club.
---
KEVIN KEEGAN | From Scunthorpe | £33k | 1971
---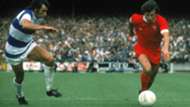 Tireless and technically gifted, the 1976 FWA Footballer of the Year was one of the finest talents to ever pull on the Red shirt.
From his debut in '71 to his final appearance in '77, Keegan harried, mesmerised and drove his team-mates as well as the club on.
Shankly credited Liverpool's first superstar as the spark for their superiority during the decade with three league titles, a European Cup, FA Cup and two UEFA Cups secured during the attacker's stint.
Once called the 'atomic bomb of Anfield', Keegan devastated opponents with his intelligence and industry.
---
LUIS SUAREZ | From Ajax | £22.8m | 2011
---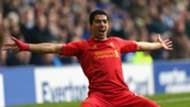 One of the very best players in world football at the moment - a phenomenon - arrived at Liverpool in January 2011 with minimum fuss, as Torres' £50 million exit to Chelsea dominated the press coverage. 
However, it didn't take the Uruguayan long to overshadow the Spaniard on L4. Cunning, unrelenting and wondrous, his explosiveness fired the club closer to the Premier League title than they've ever been in 2013-14.
With 82 goals in 133 outings for the Merseysiders, Suarez wasn't incredible in isolation - he coaxed better out of the team.
"You're guaranteed goals, assists, he just causes every opposition problems and creates a lot of space for the players around him," Gerrard said on Suarez, whom he described as the best team-mate he's ever played with.
Chelsea to seal £40m Bakayoko deal
"He's relentless -- that's the word to sum him up. He scores great goals, all type of goals, he creates out of nothing.
"He occupies the whole back four by himself. He was an absolute dream to play with. He was always on the move so that you could pick him out.
"[He is] just a phenomenal footballer."
Controversy shadowed Suarez's time in England and it is a shame that he only lifted the 2012 League Cup with Liverpool.
---
PHILIPPE COUTINHO | From Inter | £8.5m | 2013
---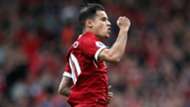 Inter have admitted one of their greatest regrets was not being more patient with the kid they lured from Vasco, who overflowed with talent but was never afforded the time to showcase it in Italy.
The Serie A side's mistake with Coutinho is one of Liverpool's ultimate masterstrokes in the transfer market.
"It was a real coup for us because Inter Milan didn't want to sell him, but when we thought he could become available we did everything we could to get him in. Thankfully he's chosen to come to Liverpool," Brendan Rodgers said in January 2013.
"He's a wonderful talent and a great technician, he's got pace, strength and power. He's flexible - he can play in midfield or off the sides."
The club's bargain buy has established himself as their premier player, with both Barcelona and Paris Saint-Germain on a charm offensive to lure the Brazilian out of Anfield. 
Liverpool's two-time Player of the Season was "the difference", according to Suarez, as they pushed for the title in 2013-14 and remains "the key to success" in the words of Gerrard.
Coutinho has not won a trophy at the club yet but, having signed a new five-year deal without a release clause in January, he will be determined to remedy that in the campaign ahead.
---
PHIL NEAL | From Northampton Town | £66k | 1974
---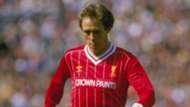 The most decorated player in the club's history played with a broken cheekbone and a broken toe against the best wishes of specialists.
Paisley's first managerial signing refused to miss a game and made 417 consecutive appearances for Liverpool, which is staggering.
Neal ran out 650 times for the Reds in total, winning 17 trophies in the process.
The most expensive players of all time
"It's easy to see when you're playing with him, that he's got a tremendous awareness of every other player in the side and what their job is," Ray Clemence said of the full-back.
"In fact, he often tells me he's a better goalkeeper than I am! Phil has so much skill on the ground that I don't think he'd be lost in midfield.
"Add to that, his defensive qualities and the fact he's no mean performer in the air and you've got a very good player indeed."
---
RAY CLEMENCE | From Scunthorpe United | £18k | 1967
---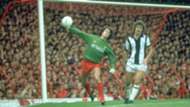 Signed as an 18-year-old by Shankly, the goalkeeper had to bide his time before making his full league debut in January 1970. At the end of that season, though, Clemence had solidified himself as Liverpool's No. 1 and only missed six league fixtures over the next 11 years.
"Ray was one of the best goalkeepers I have ever seen," said Reds legend Ian Callaghan.
"He is in England's top three alongside Gordon Banks and Peter Shilton. No one dominated the box as well as Clem.
"He made things look easy which is the sign of a top keeper."
Liverpool won five league titles and three European Cups among a host of other trophies during Clemence's time between the sticks.
He kept a clean sheet in the last of his 665 appearances for the club as Real Madrid were beaten by Alan Kennedy's late strike in the 1981 continental showpiece in Paris. 
---
SAMI HYYPIA | From Willem II | £2.5m | 1999
---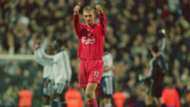 A cameraman tipped Liverpool off to one of the most esteemed defenders in the club's history, who was also a complete steal at £2.5m. 
The Reds former chief executive, Peter Robinson, explained: "It was mid-way through the 1998-99 season when there was a knock on the door of my office at Anfield. I had never met the chap.
"He came in and introduced himself as a cameraman who covered football in Europe. He knew we were looking for a strong defender and recommended we take a look at Sami, who was playing for Willem, one of the smaller Dutch clubs. That is how it all started.
"I passed the message on to Gerard Houllier and, over the next few months, members of the staff went to Holland to watch him on several occasions."
Liverpool won six trophies - including the 2005 Champions League - with the towering Finn at the heart of their defence.
Hyypia scored 35 times for the Reds, which included crucial goals in the continent's premier club competition. He was so vital to Liverpool's cause that he played every minute in 57 consecutive European games for the Reds.
---
XABI ALONSO | From Real Sociedad | £10.7m | 2004
---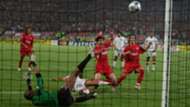 One of the most accomplished midfielders of the modern era treated Liverpool to 210 appearances of his sublime passing range and cerebral vision before going on to also control matches at Real Madrid and Bayern Munich.
Gerrard's "most enjoyable partner" in the centre of the pitch was the metronome under Benitez, setting and managing the tempo of his side's play superbly.
It was Alonso that scored Liverpool's third and equalising goal on 59 minutes in Istanbul, knocking in the rebound from his missed penalty.
The classy Spaniard also lifted the FA Cup a year later and remains a firm Anfield favourite.