Liga MX
Liga MX Round 10 matches suspended as referees strike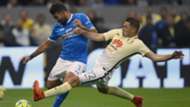 Liga MX has suspended play for Round 10 matches after referees for the matches decided to strike. 
Anibal "Mano" Ruiz dies of heart attack
The referee union threatened to strike earlier this week after two separate incidents of violent conduct against officials. Club America defender Pablo Aguilar made contact with referee Fernando Hernandez after America's 1-0 defeat to Tijuana on Wednesday. In the other game, ref Miguel Angel Flores sent off three Toluca players, including Enrique Triverio. The Argentine forward shoved the ref after his initial decision, earning a red card.
The league suspended Aguilar for a total of 10 games and Triverio for eight, but the referees' association decided not to work this weekend, saying in a statement they are " fighting for respect within the field of play."
Liga MX president Enrique Bonilla announced the decision to suspend the round at a news conference in Toulca.
Comunicado de Prensa Enrique Bonilla Presidente de la LIGA Bancomer MX

Posted by LIGA Bancomer MX on Friday, 10 March 2017
"I want to announce to you that the Mexican Football Federation and the Liga MX informs that Round 10 of the 2017 Clausura tournament has been suspended because the referees designated for the said round have denied to loan their services," he said. "This decision was taken unilaterally. The matches will be rescheduled and we will inform you at a later date the date in which they will be played,"
Friday's game between Veracruz and Puebla already was suspended, with referee Luis Enrique Santander's whereabouts unclear and tragedy striking when Anibal Ruiz collapsed before the match and later died.
The rest of the slate, including a marquee contest between Tigres and Chivas, could be tacked on to the end of the tournament before the playoffs begin or added to the middle of a week for a 'doble jornada' or double round.