Simba
Lechantre happy with the technical bench and players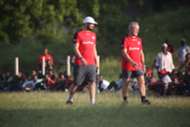 Frenchman Pierre Lechantre, the new Head coach of Simba Sports Club, says he does not expect to change a lot when it comes to training regime and in shaping the players. 
Speaking to Goal Lechantre said that he has been satisfied with the quality of players and technical bench, and he is happy with what he has seen during the past two matches between his team and Singida United and Kagera Sugar.
"I have been highly impressed with the strategies being used by Assistant coach Masoud Djuma and the quality of our players. Individual players have demonstrated they can fight hard on the pitch and this means that I will have little work" said Lechantre.
Lechantre recently inked a two-year contract with the Msimbazi giants and he is expected to officially get down to business this week after he was introduced to the club's supporters last week.