Leaving the Instagram haters behind, the rebirth of Raheem Sterling

Sam Lee
Oct 17, 2017 08:30 UTC +00:00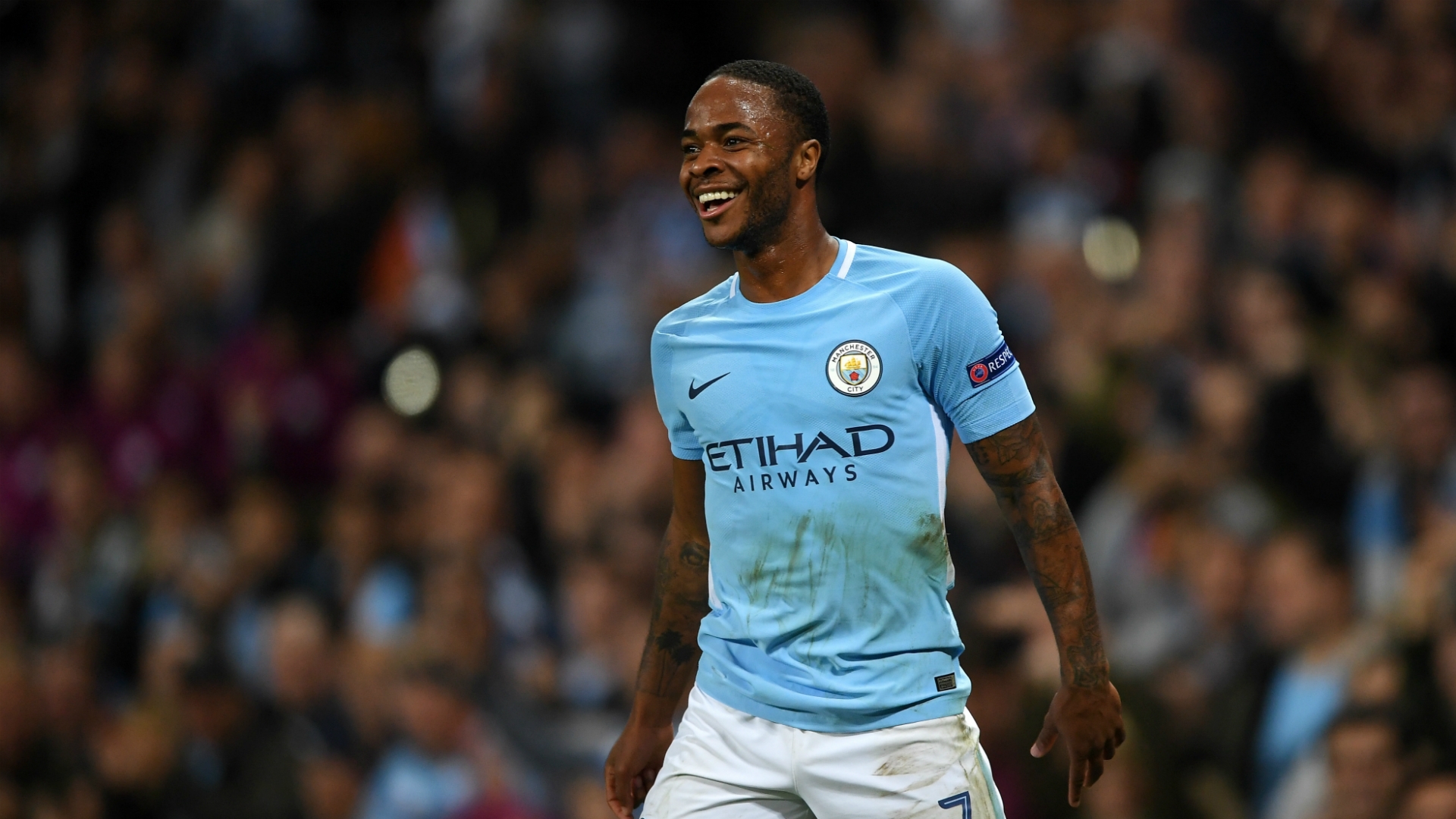 Getty Images
Less Instagram, more goals. That seems to be the broad story of Raheem Sterling's time at Manchester City, particularly given this superb run of form he is currently enjoying.
Fierce criticism is never far from the winger's radar, despite scoring seven goals and playing a lead role in Pep Guardiola's vibrant City side, which is why he has stopped looking at Instagram's 'discover' section.
Sterling 7/1 first scorer v Napoli
The average young man's discover feed will be populated with pictures of footballers, models, cars and Fifa Ultimate Team cards, but Sterling's is dotted with posts criticising his performances, or way of life.
Footballers have been ignoring newspapers for years but screenshots of the stories which detail their private lives are easily screenshotted and posted to Instagram, leaving very few hiding places.
The only alternative is to stop looking, and stop worrying.
"In my first year here, being really young, I always used to be on Instagram," he said ahead of Tuesday's Champions League game against Napoli. "You would see stuff pop up on your explore page and you would check it out, because you didn't know any better.
"Since I've been getting the negative comments, I've realised that the best thing to do is not to look at it, so that's been my thing so far in the last years. Just don't look at it and it won't affect you."
That approach, combined with the City squad's improved understanding of Guardiola's methods, has led him to become one of the finest players in the country, or at least one of the players in the best run of form.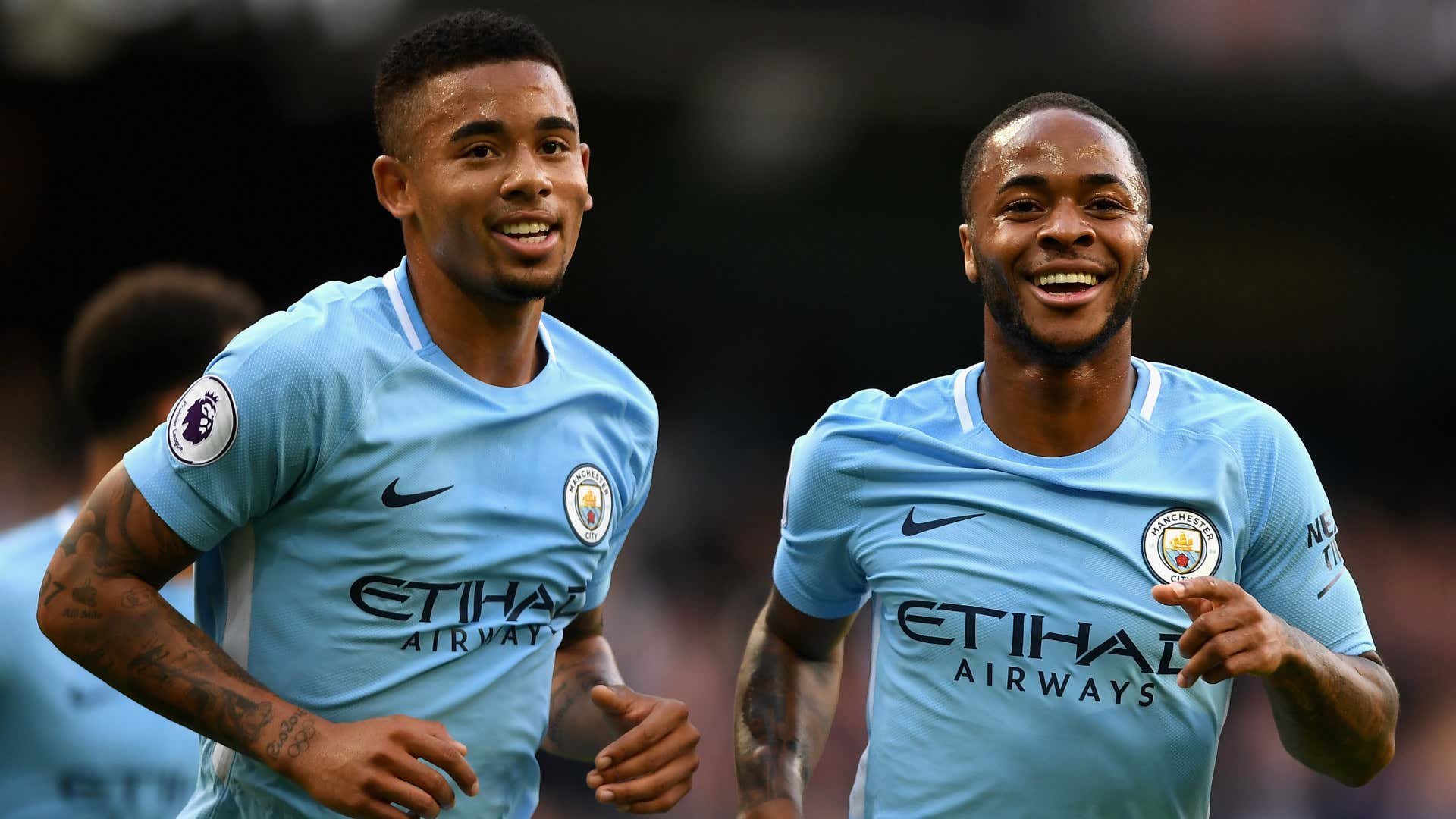 In the last three seasons he has scored 11, 11 and 10 goals in all competitions, respectively. This season he is on seven already, and his manager believes the 97th minute winner at Bournemouth in August has proven to be a key point in City's season.
Guardiola had spent the first couple of weeks of the campaign worrying whether his side still lacked a cutting edge in front of goal, and was reduced to crossing his fingers and hoping for one special moment that would turn everything on its head. The next day Sterling bobbled in a deflected winner and City have not looked back, scoring 32 times in eight games.
Sterling did not seem too keen to take all the credit for City's up-turn in fortunes, but Guardiola nodded his head profusely when it was put to the winger at Tuesday's press conference that he had already played a huge role in the club's season.
"Since then, we've really found our feet," Sterling said modestly. "We've been improving game after game and we've been getting better and better."
Guardiola was a little more forthcoming: "It was so important," he said. "It gave us a lot in terms of confidence."
It is confidence, or a lack of it, that seems to have held Sterling back in recent years. He was one of City's better performers last season, with nine goals and nine assists in the league and Champions League, but was still capable of frustrating moments, usually when given time to think about his finish or final pass.
Guardiola and his coaching staff had been concerned about this side of the winger's game, and he went into this season with something of a question mark over his long-term future.
There was never any chance of City letting him join Arsenal, even if it meant getting Alexis Sanchez in return, but another up and down season, especially if others were to kick on, would have provoked questions about his suitability to Guardiola's plans for the club. The fact he started the campaign out of the team may have served as fuel to the fire of the Arsenal rumours.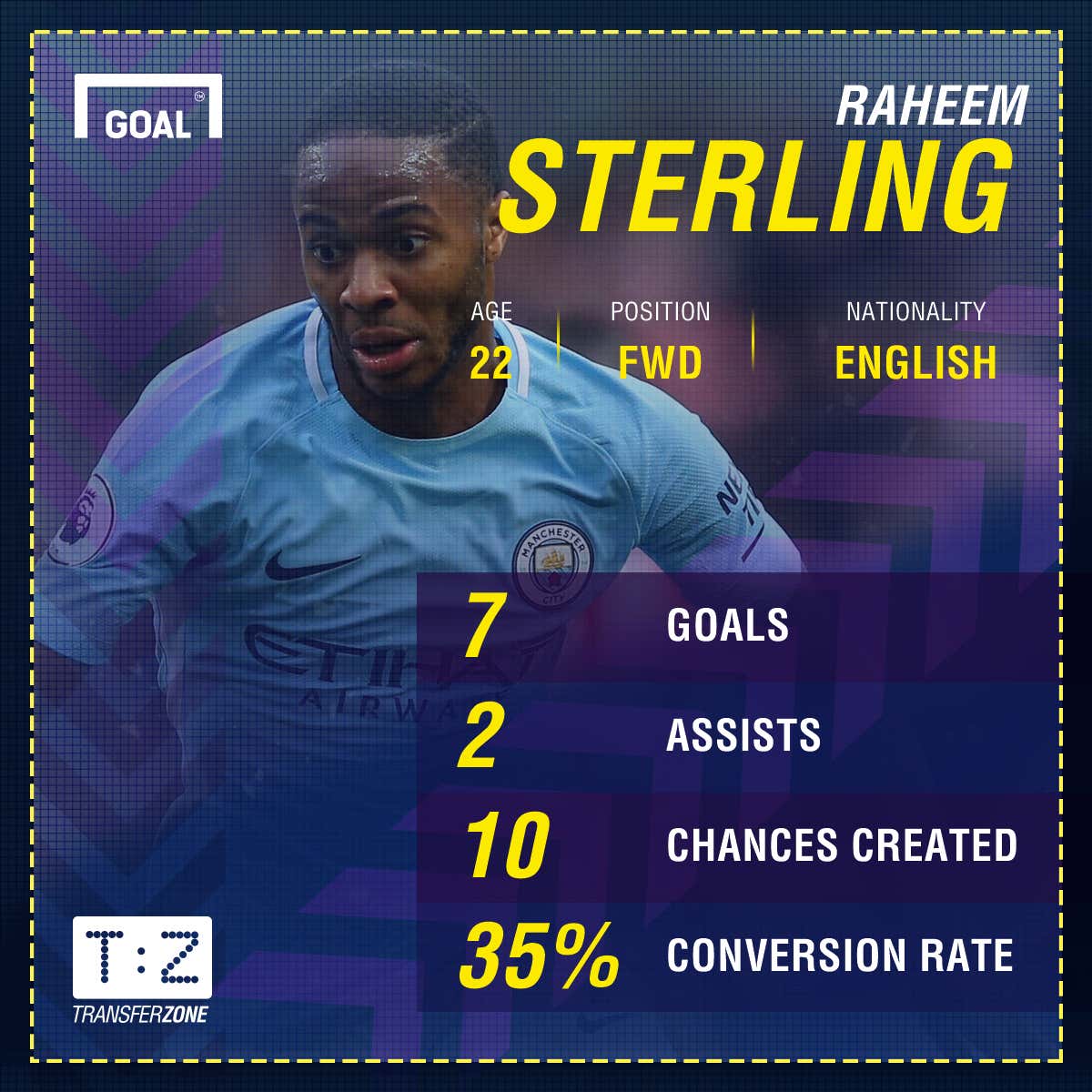 But given his current form there is little chance of him being moved on any time soon, and indeed he will not be far from a contract extension given he is roughly half-way through his five-year deal.
His improvement could easily be put down to natural progression. City signed him, with Guardiola's approval, at the age of 20, believing him to be something of a rough diamond with the potential to become one of the best in the league. Two years down the line he is indeed closer to that goal.
But he has clearly benefitted from Guardiola's coaching, and not just because the Catalan is renowned for taking already talented players to another level; Sterling revealed last season that he was forced to play two-touch football by Manuel Pellegrini, but that he has been given more freedom by Guardiola.
That would have helped deliver a good 2016-17 campaign, but he has taken a huge leap forwards in recent months, a sign that something really has clicked, for both the team and Sterling.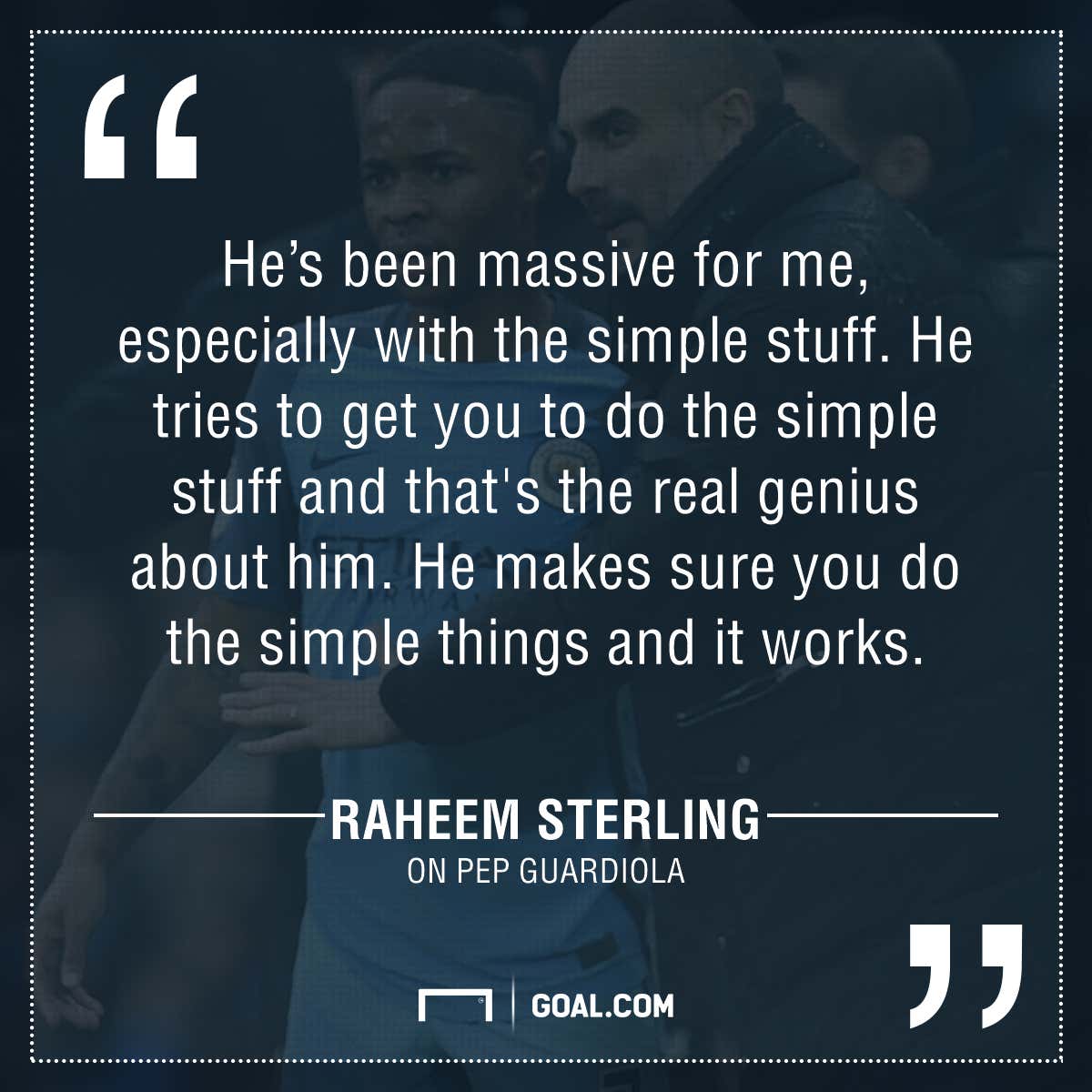 And while that goal at Bournemouth may well have acted as some kind of intangible spark, Guardiola puts his side's improvement down to a tweak in tactics.
Last term he had the likes of Sterling and Leroy Sane getting to the byline and crossing for a central striker, who could easily be crowded out. This season he has new full-backs, and occasionally David Silva, getting into those positions and crossing for at least three men, including Sterling, in the middle.
And with Kevin De Bruyne seemingly capable of playing passes nobody else in the Premier League can even see, let alone complete, City now have several different ways to create clear-cut chances.
It is why De Bruyne seems to be on his way to the Player of the Year award, why David Silva has six Premier League assists already (he got seven in the whole of last season), why Sane has six goals in all competitions, and why Sergio Aguero, Gabriel Jesus and Sterling all have seven.
The charge against City is that they started last season well before falling away dramatically, and that it could happen again.
Yet they have the right players to carry out what seems to be the right plan, and Sterling is very much part of it. He may even be able to check his Instragam feed again some day soon.