Manchester City
Lahm lauds 'unbelievable' Guardiola on the back of record-breaking Man City season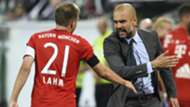 Manchester City boss Pep Guardiola has been hailed as an "incredible" coach by Bayern Munich legend Philipp Lahm, while Germany manager Joachim Low is considered to be "excellent".
The Catalan has enjoyed success wherever he has been, with a trophy-laden career taking him from Camp Nou to the Etihad Stadium via the Allianz Arena.
A Premier League and Carabao Cup double was secured in 2017-18, providing Guardiola with his first silverware in English football.
There is the promise of plenty more to come, with Lahm having seen firsthand how productive the 47-year-old can be once he gets a squad buying into his methods and playing to their potential.
The former Bayern captain told BBC Sport: "Pep has an idea which I rate as superb. How he prepares his sides is unbelievable - the analysis of your own game, but also the analysis of your opponent. He has an idea of how to face the opponent and he provides solutions for his players.
"That was a perfect fit for my game. It was always a huge joy for me. I think he also used me a little bit to implement his style into the team. I had a lot of fun working with him."
Guardiola once called Lahm "one of the most fantastic players I ever trained in my life and one of the most intelligent", with the legendary full-back quick to repay that compliment.
He added: "It is a huge compliment. We just enjoyed sharing ideas about football. It was tremendous fun. And I think he also enjoyed talking to me about football. We had similar ideas. He always provided the players with solutions. It was a privilege for me."
Another manager Lahm savoured success under during a glittering career is Germany coach Low.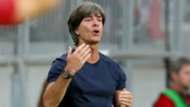 Together they tasted World Cup glory in 2014, with the 58-year-old having recently committed to a new contract through to 2022.
Lahm considers that to be good news for Die Mannschaft, with a return to club management put on hold for now.
"He is an excellent coach and could work as a coach everywhere," said Lahm.
"But there is a difference. I always find it really hard to compare coaches - especially when you look at national coaches and club managers. At a club, you work on a daily basis. You work on forming a team.
"The difficulty with the national team is that you sometimes only have the players for four days. Afterwards, maybe you don't see each other for three or four months. That is not easy. I think those are two different things, national coach and club manager. You need to be able to do both, neither is easy."