Videos
VIDEO: Lacazette scores wondergoal on Lyon farewell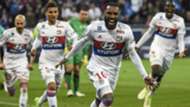 France international striker Alexandre Lacazette brought up 100 league goals for the club in what might well prove his final match for the side.
Aulas: Lazaette has Atleti deal
Lacazette had admitted that he is ready to depart in the summer, with Atletico Madrid the likely destination, and as OL picked up a 3-3 draw at home against Nice, he reached a landmark goal figure.
It was, however, his 99th goal for the club that really caught the eye. Gathering a deep cross from the left, the attacker pivoted expertly, sweeping the ball from behind him to face the goal. With just goalkeeper Yoann Cardinale to beat, he battered a shot into the corner of the net.
Not a bad way to say goodbye to his formative club!