PSG
King of Paris Neymar merely a star in Tite's Brazil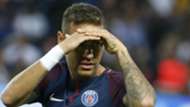 ---
COMMENT
---
After a period of rest from international duty, Neymar returns to the Selecao this week as the world's most expensive footballer –  and he arrives from Paris with love.
He's back for World Cup qualifying, as Brazil host Ecuador on Thursday before heading to Colombia next week. 
---
READ MORE: 
Coutinho fit for Brazil | 5 great Brazil-Ecuador clashes | Brazil's WCQ campaign so far
---
After six years of consecutive international tournaments, the PSG man was given a much-needed break earlier this year, when Brazil coach Tite granted him a long-awaited summer holiday by leaving him out of a Brasil Global Tour double-header in Australia.
Since then he made an earth-shattering switch to Ligue 1, turning his back on Barcelona after PSG more than doubled the previous world record fee paid for a footballer when they met his €222 million release clause.
With speculation among local media that he moved to the French capital to escape Lionel Messi's shadow and become the leader and posterboy of the PSG project, it's curious that his role with Brazil is finally heading in the opposite direction.
Indeed, while Neymar is PSG, he has slowly become just a star player for Tite's Brazil – a long-overdue step down from a lonely role as the leader of a faltering team.
When Tite arrived in June 2016, the buzzword that had followed the five-time world champions since 'the 7-1' was "Neymardependencia", used to illustrate an approach of a struggling side for whom it appeared a case of 'Neymar or bust'.
The pressure told, notably with Neymar resigning from his role as team captain after a series of outbursts that repeatedly landed him suspensions. Previous coach Dunga had formed a dysfunctional side and an atmosphere of tension.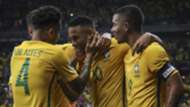 The local media believed Neymar was treated too differently from the rest and became increasingly concerned at an increasing tendency to display petulance, one that surfaced when he directed his frustrations directly at the media.
Tite transformed the atmosphere in and around the squad instantly. On the pitch, he achieved instant results, while off it he won the press back onside by extending them personal and professional courtesy.
Tite also divided responsibility among the squad, most notably in his decision to rotate the captaincy around the group. Peace and harmony returned to the Selecao, and to Neymar as an individual.
Ney starred in a dynamic, fluid attacking setup that saw the team push high and offer him greater opportunity for interplay with his colleagues. The joy had returned.
Fit and raring to go! #Selecao #Brasil #eliminatorias2018 #LFC Welcome back, @Phil_Coutinho pic.twitter.com/msxDIBkCGn
— Brasil Global Tour (@BGT_ENG) August 28, 2017
There are no privileges in this Brazil. While in club football, he can focus solely on attacking with no real responsibility to mark, Tite has demanded he work as tirelessly as those around him when pressing high.
Neymar remains the leader, the central figure both on and off the pitch. But he learned a different type of leadership under Tite – one that demands he also form part of the collective. 
With eight consecutive victories in World Cup qualifying, the results are there for all to see. That should serve him well in Russia – and in Paris.