James Rodríguez
James Rodriguez and wife Daniela Ospina announce separation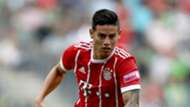 James Rodriguez and his wife Daniela Ospina have announced a split after six years of marriage. 
The former Real Madrid star, who joined Bayern Munich on loan this summer, and his wife announced the decision with a formal statement on her Instagram page. 
Bayern at 1/8 to win the Bundesliga
The couple, who married while both were still teenagers, have a daughter together and say the parting is on mutual terms. 
A post shared by Dani Salomé (@daniela_ospina5) on Jul 27, 2017 at 8:49am PDT
"Daniela Ospina and James Rodríguez, parents of Salomé Rodríguez Ospina; officialise their separation after six and a half years of marriage. It was all in the greatest of terms with one standard agreement, maintaining between them an extraordinary relationship full of love and respect, where the most important thing is the best interest of Salomé. They'll always be partners in life in her growth and education," the post reads.
'Vidal not for sale at any price'
"Both find themselves with significant professional challenges in different countries. Daniela will be in Colombia, launching her brand and with national and international projects. James is in Germany, ready to continue harvesting triumphs, fill a country full of pride that will always have him in their heart.
"All the way he'll keep up with Daniela's course of life, and she along with Salmoé will be persistently rooting and supporting him."