Wayne Rooney
'It's completely wrong!' - Rooney's England return outrages Shilton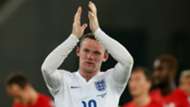 Wayne Rooney's one-off return to the England squad in a charity friendly against USA has been branded "wrong" and "backwards" by former Three Lions star Peter Shilton.
The 33-year-old said he is "truly humbled and hugely excited" to be making his way back into the fold for the November friendly, having last played for the Three Lions in November 2016. He retired the following August as England's all-time top scorer with 53 goals from 119 appearances.
The D.C. United star will win his 120th cap in the game, which will raise money for the Wayne Rooney Foundation and other charities, such as children's charity NSPCC. 
But the decision has caused a stir among some England fans, and 125-time England goalkeeper Shilton is among those perplexed by the news.
"I was shocked when I read it and I'm still struggling to understand the decision" he told The Mirror.
"It's been two years since Wayne last played, England are on a new threshold and have just had a great World Cup but are going backwards with this.
"That's not to say that Wayne does not deserve a tribute but give him a presentation, don't just give caps away which is wrong and also denies a young player a chance as well.
"I don't agree with it at all. It should be the greatest honour and reward playing for your country but the reality is that the MLS is nowhere near the same level as the Premier League.
"Wayne Rooney finished with England, Gareth Southgate moved on and I don't agree with this at all. To actually give him a game in what is a proper England international is completely wrong, in my opinion."
The match between England and USA will take place at Wembley on November 15.