Manchester United
Is Lukaku a flat-track bully? The stats that show Man Utd hitman needs to score more against big teams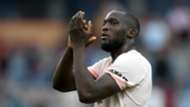 Romelu Lukaku was one of the goalscoring heroes again for Manchester United at the weekend. Having scored both goals in the 2-0 win at Burnley, he netted another from close range as Watford's 100-per-cent start was brought to a halt at Vicarage Road.
For many, though, the former Everton and Chelsea striker still has plenty to prove as United get set to begin their Champions League campaign away to Young Boys on Wednesday. He has been characterised as a 'flat-track bully' for whom scoring against more modest opposition comes far more naturally than making the difference in big games in which opportunities are more difficult to come by.
Some have suggested that Lukaku's missed chances at key moments in the losses to Brighton and Tottenham have had a huge say in their early-season troubles, while there were some grumblings that he didn't complete a hat-trick at Burnley after fluffing a late one-on-one by allowing Ben Mee the chance to deny him with a late tackle.
Former United star Rio Ferdinand is not so sure that the criticism levelled at Lukaku is proportionate though.
"He's a player who's always going to get many chances in this team. What I would say is the kid just knows how to score goals, he's a goalscorer and you can't argue with that," the BT Sport pundit told Goal.
"There's other parts of his game that I saw glimpses of in the World Cup for Belgium where it looked like he's adding to his game, and we want to see that in a Man Utd shirt as well.
"But as an out-and-out goalscorer, his record stands up against anyone's at the moment. He's scoring goals, it doesn't matter who he scores against really, does it? He's still scoring goals.
"Are all the other strikers around the Premier League like Harry Kane and that scoring that many more goals against the bigger teams? I don't know. So people keep hitting him with that one but I don't see other people really being dominant against the top six."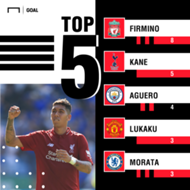 *Goals scored against EPL 'top six' and in UCL knockouts since the start of 2017-18 season
Since his arrival at United in the summer of 2017 for £75 million, Lukaku has netted 31 goals but only one has come against top-six opposition – against Chelsea at Old Trafford last term – while he has also netted against Real Madrid in the UEFA Super Cup and scored United's only goal in the Champions League knockout exit to Sevilla last season.
When compared with the top-six sides' other leading centre-forwards over the same period, the Belgian's return doesn't look dramatically different when tallying goals against fellow top-six outfits and in Champions League knockouts. Roberto Firmino's eight goals prior to his winner against Paris Saint-Germain on Tuesday include strikes against Tottenham, Manchester City and Arsenal (twice) in the league as well as four in Liverpool's run to last season's European final.
And while Harry Kane's five and Sergio Aguero's four over the last 13 months outscore Lukaku's mark, the 25-year-old is hardly lagging miles behind the rest when it comes to contributing when it counts. Clearly Lukaku is not the only centre-forward who finds it a tougher ask scoring against the best opposition sides thrown in front of him.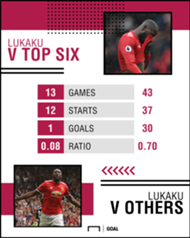 Still, Lukaku can undoubtedly improve in the 18-yard box just as he has shown tremendous progress in terms of his play outside of the area since his transfer from Everton. If he starts on Wednesday it will be the 50th time he has done so for United, but his one goal in 12 matches against top-six Premier League sides does not reflect so well against his figures of 30 in 37 starts against all other opponents.
While Young Boys could well be put to the slaughter by Lukaku to add to his four group-stage goals in 2017-18, the return of Champions League football serves as a reminder of the striker's need to make the next step up in his career in the games when United need him most.
BT Sport brings you the moments that matter this season, with exclusive live and highlights coverage of the UEFA Champions League and UEFA Europa League. Watch live on TV and via the award-winning BT Sport App. For more info visit bt.com/sport